Tennis goals update - Beginning of 2020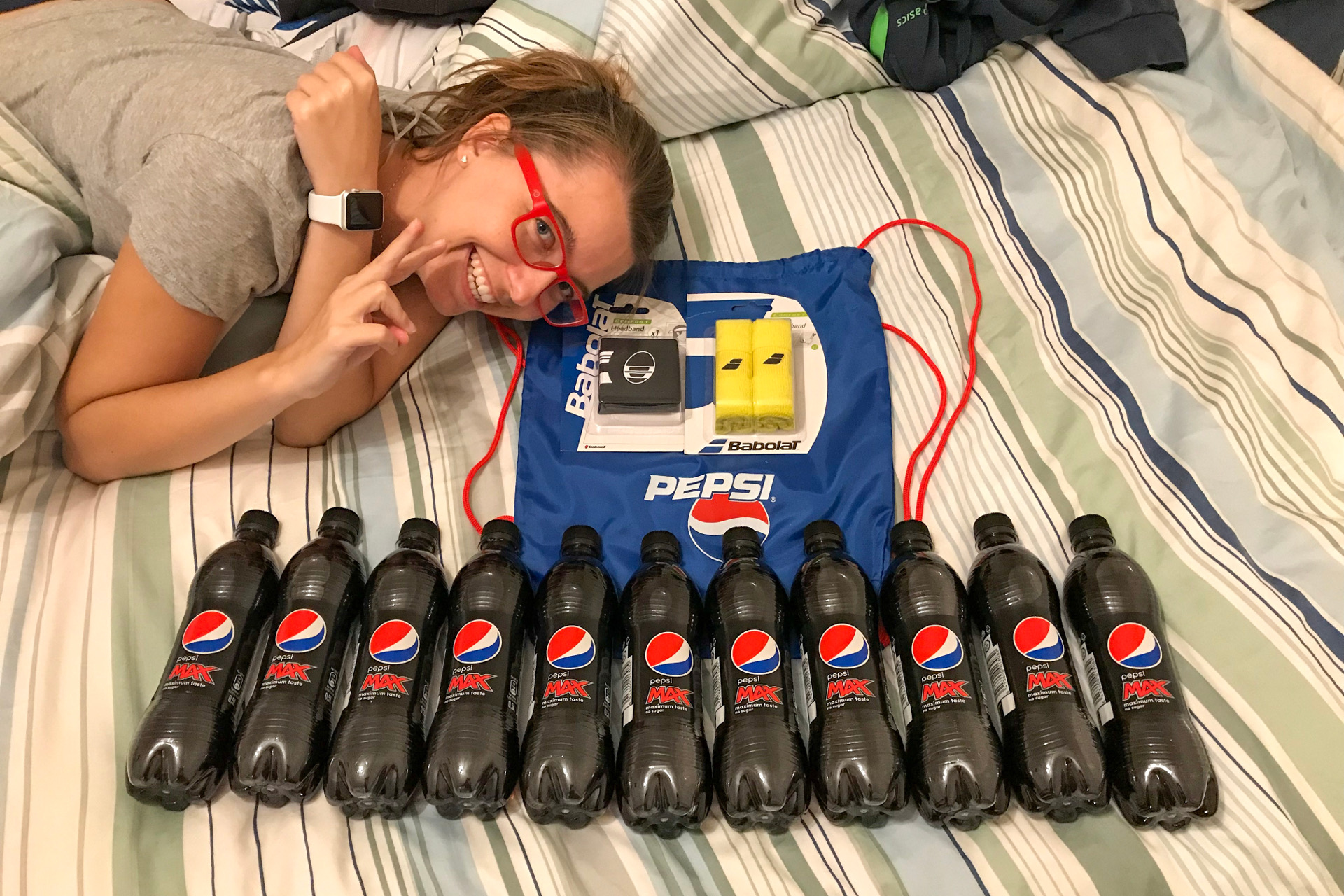 The new decade is here 🚀! And with it, my thoughts on my recent tennis achievements and my new goals, expectations and plans for the quadrimester to come.
Are you curious to know if I smashed all my past goals, or if I miserably missed some❓ And what's in store for me next? I hope you are!
You know, my intent with this blog series about tennis goals is to get you motivated to set your own and achieve them one by one 🎯, no matter how big or impossible they may seem to you. Because "with self-belief you can achieve anything".
Yes, Caroline Wozniacki 🥇 said that. And I'm here to prove it. Just like she did with her super successful tennis career.
I'm Elena Margaria 👋🏻 and just like you, I'm on a mission to become the best tennis player I can 🥇. Even without a fancy team, or too much talent. Just with a huge desire to make it. That's why Tennis Rematch exists: to share everything I learn along the way 🤓, so you can get better faster, and together we can prove that we can achieve anything we set our mind to 🔥.
Just so you know where this blog falls into, here's a recap of all the other episodes of this tennis goals series and the link to each of them!
But back to this blog! In case you wanna jump straight into something specific, here's the Table of Contents to make your life easier 👇🏻.
My 2019 in review
2019 started with no tennis whatsoever in my plans. And then, one only birthday gift 🎁 from my mum and dad changed everything and led me to my totally unexpected tennis comeback. But you know this story already.
So... since I restarted playing tennis at the end of July, I had one thing in mind: playing tournaments again 🏆. Just the thought of it would make my heart beat faster and louder ❤️!
Which is why I went from 0 tennis to tennis 4, 5, even 6 days per week, from one day to the next 😅. An abrupt change perhaps, but the most beautiful change I could go for!
And thank god 🙏🏻, all this training paid off pretty quickly and in September I felt confident enough to sign up for my first tournament post-comeback. If you've read this post, you may remember how my match went: spectacular at the beginning 🌈, devastating at the end ☠️.
But that didn't stop me 🙅🏼‍♀️. Actually, if that defeat did something was pushing me to train even harder.
Because when you remember how you used to play and feel during a match 💭, but your current fitness condition 🏋🏼‍♀️ and game 🎾 don't reflect the image you have of yourself, that's what you do: you keep your head down and work more.
And when you work more, you improve. And when you improve, the results take care of themselves.
And here's proof: in the following 3 months, I collected 2 silver medals 🥈 and 2 golden medals 🥇, with a total of 15 matches won and only 5 lost.
Coincidence❓ I don't think so!
But let's see what goals I did and didn't achieve during those months 👇🏻. You know, results are great (and a nice reward too), but they're not everything!
Did I achieve my latest tennis goals?
A couple! Not all though 🥺. Which, in some sense, it's good because it means they were ambitious and not too easy!
But let's go through them one by one, and see what went well and what can be improved instead.
🎯 RANKING → FAILURE #1 ❌: my goal was to reach C2 in the Finnish ranking, but I just got to C3 instead. But but but! 👉🏻 As I explained in my previous blog about tennis goals, the Finnish ranking system doesn't make it easy to skip too many rankings, as you make points not only based on your opponent's ranking but yours too. Sooo, in the end I went close enough and I cannot complain! After all, I did a big jump and that's what counts 🚀.
🎯 GAME → SUCCESS #1 ✅: my goal was more consistency and fewer unforced errors, and the progress I made in that direction is undeniable. In fact, it's thanks to consistency that I ended up winning so many matches in such a short period of time. Because let's be honest: at my current level, the players tend to go for winners 💥 even when they shouldn't, ignoring most of the shot selection principles, which means that playing smart 🤓 and being consistent can make a big difference.
🎯 ATTITUDE → SUCCESS #2 ✅: my goal was to get better at thinking of the next point only 💭 and make it a habit, and yes, I can say that is a habit these days. For some reason, at some point it just clicked and became automatic ⚙️: no need to spend energy forcing it anymore 🥳! And this too, like consistency, was key to take home my best results 😉.
🎯 FITNESS → SUCCESS #3 ✅: my goal was to increase my endurance, improve my sprint forward and get a stronger upper body, and all of it is ticked!! I couldn't be prouder 🤗, can you tell? This goal has probably been the hardest to achieve as it didn't just happen by itself or clicked like the focus, but required work and discipline. But once again, my efforts paid off and in a few weeks I was able to play even 4 (shortened) matches in a day 🔋, without feeling as heavy as an elephant when running forward 🐘, and with more power coming from my upper body 💪🏻.
Sooo, the facts and figures 📊 say 75% of my tennis goals were achieved: not bad, eh❓
Not at all, I'd say! Even though, of course, there's always to improve!! And I cannot wait to see where I'll get in the next 4 months 🤩!!
☝🏻 But one thing is for sure: these past 4 months really showed me once again that when you set goals and then work like crazy for them, you can really achieve anything.
Hence... let's see what I'm gonna try to achieve next!
What are my next tennis goals?
Keeping them short but specific, here they are:
🎯 RANKING → My goal is to reach B3 in the Finnish ranking and be top 170 in Finland.
As I said, I'm now C3, so for getting a ranking of B3 I need to beat B players. Easy? Nope ❌, but not even impossible! In fact, I've already won 2 B players lately, so it should be feasible if I keep playing well.
🎯 GAME → My goal is to play more aggressive (without sacrificing the consistency I've recently found), starting from the serve and the return.
I don't want to simply hit harder 💥, I want to put more weight on the ball so that not only I'm more dangerous for my opponent, but also have good error margin. To achieve this, I'll continue to work on putting more top spin with my new forehand (shorter backswing and extended arm at contact point) and taking the ball on the rise. Then, I'll try to add 10 km/h to my first serve and, ideally, hit the 140 km/h mark. Also, I'll practice more my return and reactivity, as I've been neglecting it for forever 🤫!
🎯 ATTITUDE → My goal is to keep focus and concentration when things are not working the way I'd like 😤*, especially during training.*
A couple of months ago, I've decided to switch to the Federer forehand and, I have to admit, it's been everything but easy 😣. Some days it seems to go well 🤗, others it just sucks 🤮. And during the sucky days, I get caught up in a pissed-mixed-to-disgusted state that takes me completely out of focus and ruins the rest of the practice session. So this needs to change ASAP ⛔️: I cannot afford waisting any opportunity to train just because of my bad mood 🙄!
🎯 FITNESS → My goal is to get lighter and faster feet 👣*, become more explosive* 💥 and be able to move at my 💯*% even at the end of a tight match.*
And here's why. I want to improve my footwork because that's what makes the biggest difference between B and C players, and since I'm planning to beat lots of B players I need that. Then, I want more explosiveness so I can put more weight on the ball with less effort 🧚🏻‍♀️. And finally, I want to improve my overall endurance so I can give myself the best chance to win the third set with tough opponents.
Tennis goals recap
Writing down 📝 my long-term and short-term tennis goals last September was the best decision I've ever taken.
Not only did it help me stay motivated the whole time, but also focus and work on fewer, but really important aspects of my tennis.
To be honest I'm really proud of what I've achieved so far 😌, but at the same time I cannot wait to see where I'll be at in 4 months from now 🔮! It's so exciting 💃🏼!!
Making a bit of progress every single day really gets you far. So cheers to baby steps 🥂.
I'll update you when it's time 😉, probably around May 📆.
Voilà, now you're up to date with my tennis goals! But what about you?
Let me know in the comments:
👉🏻 Did you achieve the goals you had set for the end of 2019? How did it go? You managed 💯 %, or you had to postpone a few like me?
👉🏻 And then, what are you trying to achieve during the next 4 months? I'm so curious!!! Just so you know, I'll be cheering for you 👯‍♀️!!
Hope you enjoyed this quick update on my tennis goals, and got a bit of motivation to set and achieve your own! If so, leave me a clap (or two) so I know you did ;)
Would you play tennis all day and night just to get better?
Then you're one of us! We're a community of passionate and motivated tennis players who work hard every day 💦 to reach their goals, motivate each other 🔥 to keep going when things get tough and share their own experiences 💬 so everybody can get better faster.