My tennis goals, one year later - Still on track?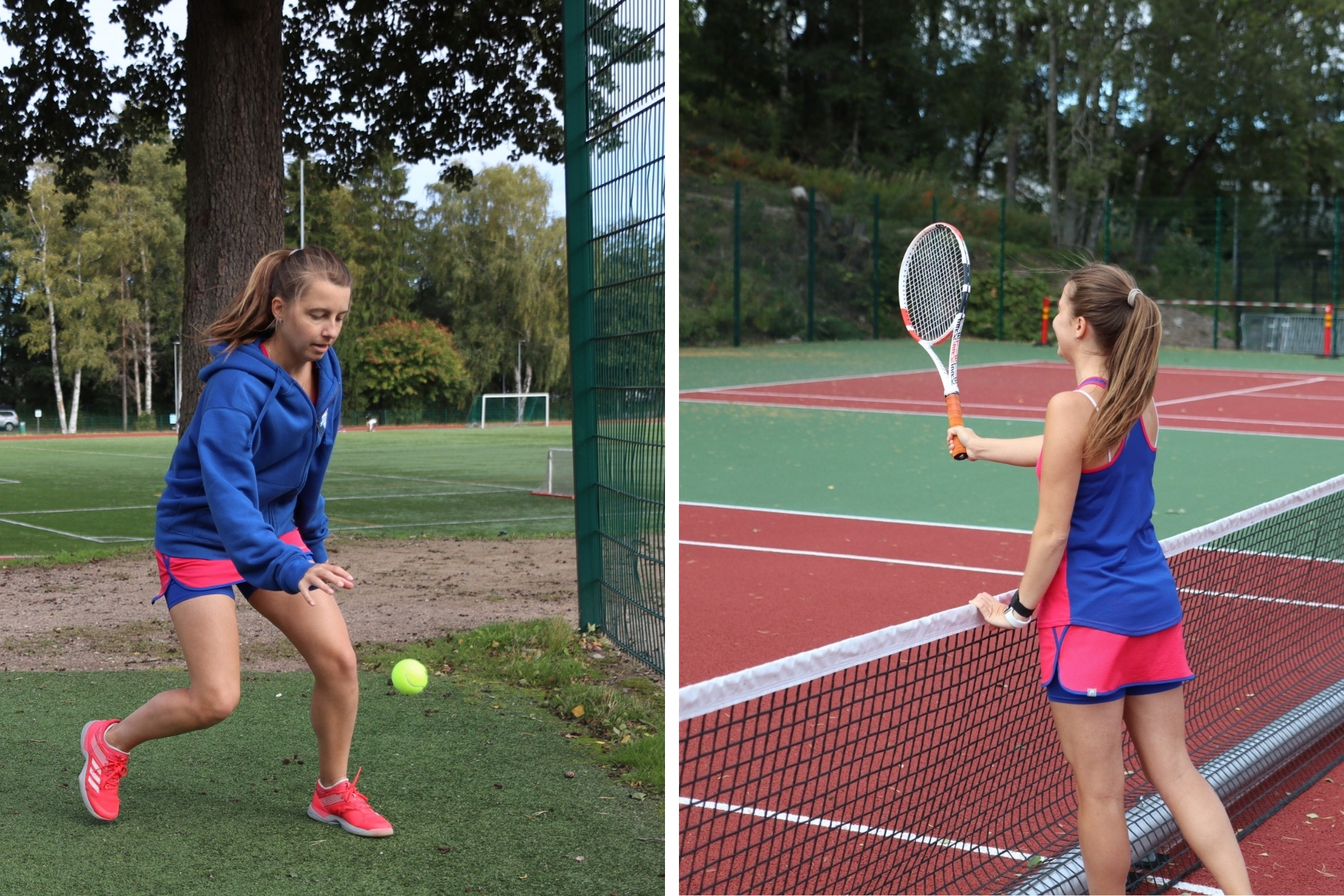 Clay season is officially over here in Finland, which means it's exactly one year since my comeback to competitive tennis and my first ever blog on tennis goals. Can you believe that?!
I certainly cannot 😬! It feels like yesterday when I pushed the publish button and put black on white my ambitious tennis goals for the first time in my life, and instead one year has passed by. How crazy 😱!
I know you were waiting for my update in May, but due to COVID-19 not much had happened back then, so I thought I'd postpone it to the beginning of fall 🍂. I'm sure you understand.
Btw, if you've just hopped on my blog and have no clue about who I am, I'm Elena Margaria 👋🏻 and just like you, I'm on a mission to become the best tennis player I can 🥇. Even without a fancy team, or too much talent. Just with a huge desire to make it. That's why Tennis Rematch exists: to share everything I learn along the way 🤓, so you can get better faster, and together we can prove that we can achieve anything we set our mind to 🔥.
But let's get back to the content of this blog.
This time you won't only find the report of my progress on the latest short-term goals and the plan to achieve the next ones, but also a checkpoint on my long-term tennis goals. And guess what, I have some breaking news you don't wanna miss 🤫.
Before you go ahead, here's the link to all the other episodes of the tennis goals series, in case you missed some or need a recap 😉!
As always here's the Table of Contents so you can go straight to what interests you the most 👇🏻. (But don't be so predictable and hurry to the breaking news, c'mon. I challenge you to keep the surprise as last, as the cherry on the cake 🍰)
My latest tennis goals: did I achieve them?
Yesss, this time I got even closer than last time to achieve all the goals I'd set for myself 😎. But once again, reaching 100% of them seems to be quite tough.
Good! Then in the coming months I'll work even harder. (No, I'm not one to lower her ambition just to say all the goals were achieved. Just saying, in case you don't know me yet!).
But let's see which ones I did achieve and which ones I missed instead. Here's a quick summary 🤓.
My latest outcome goals
🎯 RANKING → SUCCESS #1 ✅: my goal was to reach B3 in the Finnish ranking and be top 170 in Finland, and yessss I (barely) made it 🥳! (Technically this is a lie as I'm currently 171, but c'mon! You cannot fail because of one position, can you?!)
You have no idea how excited and proud I am 🤩 for ticking this goal off the list, because it was so sooo tough to get there! So much that at some point during the summer I even doubted I'd make it on time: it just seemed so out of reach 🤯.
I was getting little injuries every other match 🤕, and my confidence was crumbling at every defeat 🥺. But somehow I never lost faith and kept showing up every single day just as everything was going fine, and at some point things not only got fine but great 💃🏼!
👉🏻 Sooo... if you're going through a tough period and struggling to see the results you've been working so hard for, remember this:
✨ Don't give up. Success might be just around the corner. ✨
My latest process goals
🎯 GAME → SUCCESS #2 ✅ & FAILURE #1 ❌: my goal was to play more aggressive (without sacrificing the consistency I'd recently found), starting from the serve and the return, and I did achieve some of it. Let's say a good 50% of the goal is ticked off, the other 50% is not!
Without a doubt, my intentions on the court have changed radically: I'm no longer trying to be consistent only, but to put pressure on the opponent at the same time.
How? By doing what I'm good at: being a puppeteer.
That's right. That's how I define myself these days! And here's why: because every time I step on the court my only goal is to make my opponent run all the time 🏃🏼‍♀️ and never make her hit two balls in a row from the same position 😈.
And you know what? Not only it's reallllly a lot of fun 😅 (just for me, for them it's more like a torture!), but it also works like a charm 🤭. So win win 🥂!
But let's talk about what I didn't achieve instead: a more powerful yet reliable serve.
Don't get me wrong, I've been practicing my serve regularly, I'm just not quite there yet. A few small injuries here and there let me know my movement wasn't that efficient for generating power 💥, so here I am taking a step back and improving my technique.
To be honest, it's quite tough to feel my serve so unreliable right now, but it's a price I'm eager to pay to get a dangerously powerful serve soon. After all, I know it's just a matter of time ⏳!
🎯 ATTITUDE → SUCCESS #3 ✅: my goal was to keep focus and concentration when things are not working the way I'd like, especially during training, and yes I did crash this goal 💯%.
Of course, I still get frustrated and discouraged at times (which I think it's normal by the way: I'm not a robot and I care!). But that doesn't mean I let those feelings take over and ruin my practice anymore. I'm done with that!
And you know what? By having more self-control, I gained so much time you cannot imagine!
In fact, while I once used to get myself into the rabbit hole of complaints 😡, I now accept the fact there are meh days, get over it super fast and just focus twice as much, with the result of much more productive and efficient training sessions!
👉🏻 Sooo... every time you find yourself in a shitty mood because you're not feeling the ball, your legs don't seem to collaborate or you know what, just remind yourself that:
✨ It's how you react that matters. ✨
🎯 FITNESS → SUCCESS #4 ✅: my goal was to get lighter and faster feet 👣*, become more explosive* 💥 and be able to move at my 💯*% even at the end of a tight match*, and yesss it's all ticked!
This wasn't easy at all, but with the right fitness program and iron discipline in just a few months I took giant steps and reached a shape that made me much more competitive, so I'm really satisfied and proud of my progress 🤗.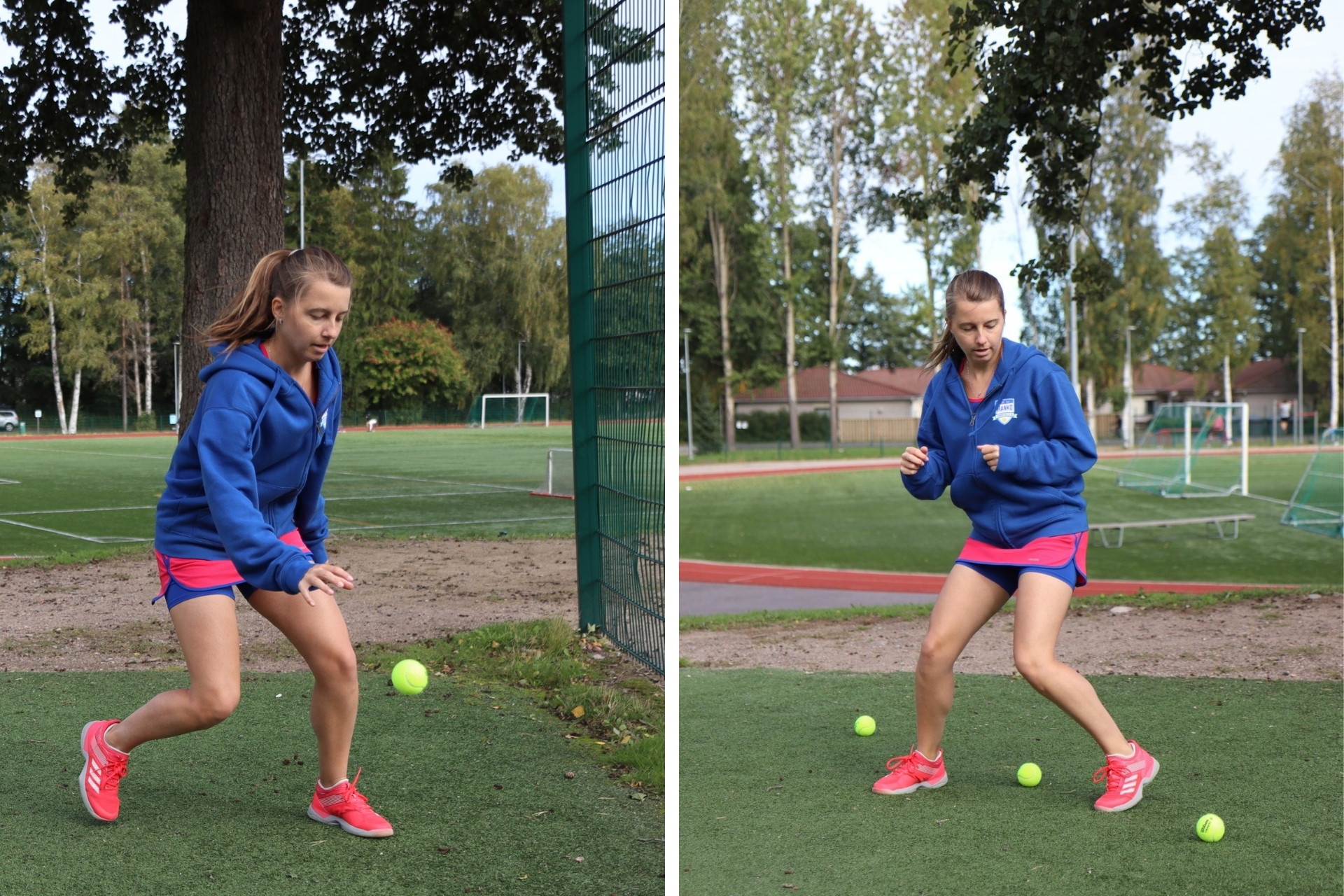 Not only. I'm also super excited about the progress that is coming, because one thing is for sure: I'm not stopping here! Especially after seeing for myself that the benefits I got from raising my fitness level didn't show up only during my matches, but during practice too.
In fact, the more I improved my fitness, the easier the practices became, with the result I can now sustain longer and more intense training sessions.
Conclusion? Facts and figures 📊 say 87.5% of my goals were smashed, and only 12.5% were missed. So it looks like I'm on the right track! Yayyy 🥳, I couldn't be more proud of all the progress I've made and am looking forward to see where I'll be in 4 months 🚀! OMG, I just cannot wait 💃🏼!
Are you curious as well? If so, here's what I'm planning to tick next! At least in 4 months you'll have some ideas on what to expect from me 😜.
My next tennis goals: what now?
As always, I'll keep them short and specific. After all, I know you just want to have a little taste of what's coming (I'm like that too 🙌🏻), so there you go.
My next outcome goals
🎯 RANKING → My goal is to reach B2 in the Finnish ranking and be top 110 in Finland.
Even though it doesn't sound like a big improvement, it would be anything but insignificant for me.
In fact, yes I did achieve B3 lately, but just barely! And in order to get to B2 I'd need to beat several B players and also a couple of A3 (or higher) players.
While winning B players sounds quite reasonable these days, winning A players (although I've already done it twice) still requires aligned planets 🪐 and an exceptional performance from my side.
So we'll see... I might make it happen, or I might miss this goal badly.
My next process goals
🎯 GAME → My goal is to generate more power with my shots, serve included.
By now you should know I'm not one of those players who hit winners right and left. And to be honest, I'm not even trying to 😅. I know what my strengths are, and power is not one of them.
In fact, I'm very good at exploiting my opponent's power, but I'm just as bad at generating power myself. So this needs to change ASAP. Cannot go on like this. It's too important to be able to finish the point once and for all in certain situations, and now it just takes too long 🙄!
About the serve, I'm getting there: my elbow is now high and the drop of the racket is starting to happen more times than not. I just need to keep on practicing it, use my whole body more and it will be a bomb 💣, I know it.
I don't really have a speed goal yet, as I'd only like to make it more automatic and reliable, but if I could get to 150 km/h I'd be really really happy. We'll see 🤞🏻.
🎯 ATTITUDE → My goal is to always step on the court confident that I can find a way to win, whoever I play, and never lose a match without trying all my options.
Lately I've been throwing myself out of my comfort zone a lot by competing in the highest Finnish series a couple of times, and the adrenaline I felt in those occasions was just priceless 🤩.
One thing I've noticed though is that my expectations weren't very high, since my only goal was to see how far I still am from the best players.
While this attitude helped me play without any pressure (ahhh what a relief!) and win some unexpected matches 😱, it also prevented me from actually exploring all my options and strategies in the same way I'd do when things didn't go as planned with a lower-ranked player.
And that needs to change. Because yes, the other player might be better than me, but that doesn't mean I should just accept it and lose without trying different options. I should try EVERYTHING to get the win anyway!
You never know what can happen when you hang in there and mix things up!
🎯 FITNESS → My goal is to get even faster feet 👣 and get stronger overall 🏋🏼‍♀️.
As you've read just before, I did get lighter and faster feet lately, but even though I'm very proud of my progress in that direction, I know for a fact they can still get better: there's still another gear ⚡️. And I need that gear to beat A girls!
About my strength instead, there's still a long way to go! I've been doing progress (and the weight I gained is proof), but I need more: I cannot get tired after 5 minutes of playing with extra bent knees, c'mon 🤭!
Plus, I need more strength to avoid injuries if I want to keep training as much as I've been these past weeks. Sometimes I felt like I was a bit too much on the edge, so I slowed down for a few days. I think it's better to be safe than sorry! But of course, the ideal scenario would be to be safe and still train hard as hell 🔥!
And voilà, now you know all the goals I set for the coming months. What you don't know yet though is how I'm planning to achieve them. So if you're curious about that, keep reading because that's what I'm gonna tell you next 😉.
The plan to achieve my next tennis goals
My plan is to practice more and compete less. It's not easy to say no to tournaments for me (you know how competitive I am), but it's necessary right now. Or I won't make the progress I'm looking for.
🔹 Reason #1 → I don't know about you, but for me it's very difficult to focus 🔎 on one aspect of my game only, when I have a tournament in sight. I always feel like I need to practice a bit of everything to be ready for the upcoming matches, so I certainly cannot expect too much progress on one specific thing when the time of the practice is split like that 🤷🏼‍♀️!
🔹 Reason #2 → With too many tournaments on schedule 📆, there's no way I can train my fitness consistently. I've tried to combine them in the past months, and hasn't worked out well for me. In fact, I ended up overtrained not once, but twice before the start of a tournament. And guess what? Once I got injured right away at the beginning of the match, while the other time I had to play the third set with an empty tank. So never again, lesson learnt 💁🏼‍♀️!
So yes, the plan is to increase the number of practices, both on and off the tennis court. Body permitting, my aim is to get to play 6 days per week (at least one hour and a half per day), and complete the high performance fitness program at least once without pausing it.
It won't be easy to stick to this plan (I must admit it's quite ambitious), but I'll do my best 💪🏻! I'll also mark all my sessions down, so next time I'll be able to update you with the exact numbers and hours. I'm sure it'll be fun to check together how it went 😁.
But now, exactly one year later after my first blog on tennis goals, it's time for me to take the stock of the situation on my long-term tennis goals. Am I on the right track, or was I too optimistic when I first set them?
Long-term tennis goals checkpoint
"In 5 years from now, I want to be playing ITF tournaments. Actually, no, wait! I don't want to just be playing them. I also want to be winning a few! Not only. I want to reach a specific ranking: I want to be in the top 500."
This is what I had written down last September and what I've been working so hard for since then. And you know what? I still remember the feeling of writing this goal down as if it was yesterday: a mix of fear of judgement, fear of failure and fear of disappointment. In one word, FEAR 🤯.
Well, one year later I can tell you my feelings have changed quite a lot, and there's none of those fears left anymore!
📌 I no longer care about what people may think of my goals: I know they're very ambitious and understand that not everyone would be eager to invest so much time, energy and money on something there's no guarantee to succeed in. But I am eager to take that risk, and that's all that matters!
📌 I am no longer afraid of failing, because as long as I do my best every day and work relentlessly, there's no way I can fail, it just cannot be otherwise! Giving up on tennis would mean failure, and that's not gonna happen!
📌 I am no longer afraid of disappointing anyone, me included. I know the results may never come, but those don't matter so much after all. In the end, disappointment is never caused by an outcome that's not completely up to us, rather by the regret of not having tried hard enough. So no need to worry about that!
So fears apart, I think that goal isn't as out of reach as I thought it was back then 💭. It's still very far, of course, but I can already almost see it. With the right amount of work, I'm sure I can get there!
In fact, 🥁 BIG BREAKING NEWS 🥁, one of the milestones I'd really like to tick during the next 12 months is to play at least one ITF tournament.
Ok, I said it. OMG 😱! Just the thought of it makes my heart beat soooo fast ❤️ it feels like it's exploding! So exciting 💃🏼!!!
But we'll see when I'll be ready for that! One thing is for sure though: you'll be the first one to know, I promise!
That's it. My endless update on my short and long-term goals is over. The next one will come in 4 months, hopefully I'll have good news!
In the meanwhile take care of yourself and keep showing up every day for your dreams, because you know how it works:
✨ We can achieve anything we set our mind to. ✨
If you've made it this far, thank you from the bottom of my heart 💕. You have no idea how happy I am you like following my journey and want to know how it goes 🥰.
Btw, if you're cheering up for me, please click on the clap button below so I'll know! I love feeling your support 🙏🏻.
I truly hope you can see what self-belief can do, and never give up on your dreams 💫.
Would you play tennis all day and night just to get better?
Then you're one of us! We're a community of passionate and motivated tennis players who work hard every day 💦 to reach their goals, motivate each other 🔥 to keep going when things get tough and share their own experiences 💬 so everybody can get better faster.