My tennis goals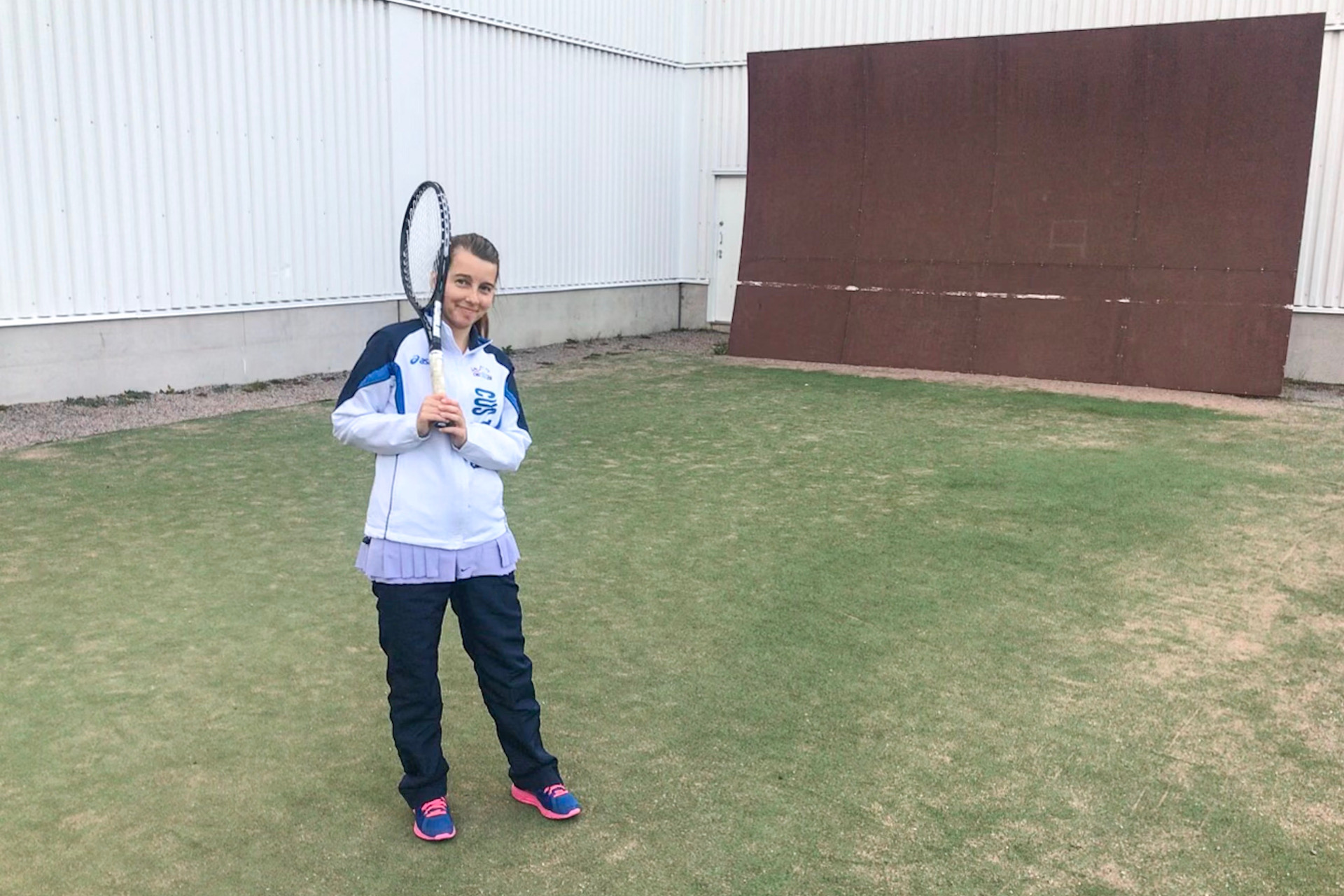 Ever heard the saying "A goal without a plan is just a dream"? I love it, and couldn't agree more! In fact, it sums up my thoughts just perfectly 👌.
Speaking of which, want to know a fun fact about me?!
Here it is: people call me a dreamer, and that pisses me off 😤. I know their purpose is not to offend me, but I really can't help myself! Most of them even say it with admiration, I can feel it. But that word, dreamer, regularly triggers something in me that makes me "gggrrrr" 🤬!
Who knows, maybe it's because I don't consider myself a dreamer at all 🤷‍♀️. Because... well, I do have a plan! And a very clear one, to be honest.
That's right, I'm not just fantasizing about the future 💭, I actually believe it could one day become true as long as I work my butt off! Call me crazy if you like, I don't mind 💁‍♀️.
Btw if you're new on this blog and have no clue about who I am, I'm Elena Margaria 👋🏻 and just like you, I'm on a mission to become the best tennis player I can 🥇. Even without a fancy team, or too much talent. Just with a huge desire to make it.
That's why Tennis Rematch exists: to share everything I learn along the way 🤓, so you can get better faster, and together we can prove that we can achieve anything we set our mind to 🔥.
But ok, let's get back to business (aka tennis goals).
What's in that crazy head of mine right now? What am I working hard for? Where am I heading to? Do I even know it myself? Or I'm just playing tennis for the pleasure of playing? I'm sure you can guess this one 😜. But for the others, just keep reading and you'll figure everything out!
Want a heads up? Here's the Table of Contents 👇.
Long-term and short-term goals
🎯 When I say long-term goals, I think about who I want to be and what achievements I want to have under my belt in 5 years. (Not more just because I'm not able to go that far in the future, ops 🤫)
🎯 When I say short-term goals instead, I project myself just a few months ahead, 4 months in case of tennis, and think of where I should be at that time if in 5 years I want to be at my finish line.
In practice, what I do in terms of goals is reverse-engineering 🧠.
First, I define my final destination, then I plan the intermediate milestones I need to go through in order to get there.
It works like a charm ✨, and I'll tell you why.
📌 By defining my long-term goals I make sure I know why I'm working hard. This is especially important for those moments when I don't feel super inspired, and need some motivation to go the extra mile. Long-term goals are fuel!
📌 By planning my short-term goals I make sure I don't get overwhelmed and discouraged, but remain focused on the next small step to take instead. This is essential, because in order to reach my full potential, it's clear that the long-term goal must be challenging enough to scare me. But at the same time, I cannot let that happen, unless I'm ok with wasting time ⏳ and energy ⚡️ (which of course I'm not!). Short-term goals are the itinerary!
My long-term tennis goals
⚠️ Disclaimer! I'm sure you can understand how scary this is: writing down thoughts and goals is already scary by itself, let alone put them on the net where anyone can see them, and express her own opinion about them.
You know, I don't want to fail 👀. And I want it even less in front of the net (obviously!). However, I know this fear of failure will push me even harder. So why not being honest and transparent, and run the risk of being a bit too vulnerable, if that's gonna help me reach my goals?! 😎
So... here they are!
👉 In 5 years from now, I want to be playing ITF tournaments. Actually, no, wait ✋. I don't want to just be playing them. I also want to be winning a few 🏆! Not only. I also want to reach a specific ranking: I want to be in the top 500.
Is this too easy? Too hard?
Honestly, for me, right now, it feels nearly impossible 🤯. But still doable. Which is good, because it means it's challenging but not completely out of reach. Hope that makes sense to you!
If I just train hard enough and don't give up, I can do it. I'm 💯% sure, no doubt! So the challenge here is to "just" keep my head down and give my all every single day, no distraction allowed!
My short-term tennis goals
Given my long-term goals, in 4 months from now (actually 2.5 this time, so that I align with the Finnish calendar 📆), what ranking do I need to reach? How should my game evolve? Should I be more offensive, or improve my defense game? What about my attitude? Do I need to improve my self-talk, or sharpen my focus? And physically-wise, am I lacking endurance or footwork skills?
🎯 RANKING-wise, it's kind of hard and honestly a bit depressing to set a goal at this point.
I've just got the tennis license here in Finland 🇫🇮, and got the lowest possible ranking (fair enough). Unfortunately though, the Finnish system gives you points not only based on the opponent's ranking, but yours too. Which means, since mine is so low, I get basically (actually, literally!) no point for it. So? I need to beat girls with way better ranking than the one I want and can possibly achieve!
That said, my ranking goal for the end of the year is C2. Which means, I need to beat girls with B ranking or many many with C1. Not an easy task, I know. But if there was no chance to fail, what kind of goal would that be? A sad one. So no thanks 😬!
🎯 Talking about GAME... I know for a fact my ball needs to be heavier, MUCH heavier!
Currently I play too flat, which makes it too easy for the opponent to play me, and too hard for me to be consistent and solid. Not good! I must learn to transfer my whole weight on the ball, and make more use of the different spins. I cannot rely on winners only, I need to cause forced errors too.
The same thing applies to my serve. Too flat, too few variations. Right now, I just change direction and that's enough not to be attacked. But if I want to grow, I need to surprise the opponent with different spins. And of course, put more weight on every ball.
🎯 What about my ATTITUDE? I need to keep on improving my ability to just think of the next point, not the previous ones.
In the last tournament I tried my best, and noticed that it really worked magic when I managed to do it properly. Was it easy? Not at all: I had to force myself all the time to erase points as soon as they were finished. I need to make this process more automatic and natural.
🎯 And when it comes to FITNESS? Ohhh, here's where I want to improve the most! And also where I CAN improve the most!
For sure, my endurance needs to go up up up. I cannot be tired in the second set of a match, I just cannot, c'mon!
Plus, my sprint forward: these days I feel slow and heavy when running towards the net, while it used to be one of my strengths. Need to get back in shape ASAP!
And finally my strength, especially in my upper body. That shouldn't be too difficult to improve, as I practically have zero strength 🤫.
What's the plan to reach my short-term tennis goals?
Practice practice practice! Because practice makes perfect, doesn't it❓
So yes, the plan is:
🔹 to play tennis 5-6 hours / week (if tournaments allow it) and focus on my technique;
🔹 to have 3 fitness sessions / week, mainly based on upper body strength and endurance to speed;
🔹 to play as many tournaments as I can, body permitting of course, aiming at 2-3 / month, in order to rebuild my confidence and improve my attitude.
My main goal though won't be results, but applying the things I learnt during practice. Because wins will come if I keep improving, that's a fact.
Ok, I think that's all! I'll update you about my tennis progress and achievements at the beginning of 2020. Hopefully, I'll have great news and smashed all my goals. Keep your fingers crossed for me 🙏🏻.
Update! Actually, since you showed so much interest for my tennis goals and progress, I created a whole series about it. Here's the link to the next episodes, enjoy 😉!
How about you? Do you also have an ambitious goals that now seems impossible?
Let me know in the comments!
👉 If so, what is it? Why do you think it's so hard? Don't you have what it takes? (Of course you dooooo!) How are you planning to make it happen? Remember: "A goal without a plan is just a dream".
👉 If not, does it mean you've already reached all your goals? Or that you don't consider your goals ambitious? (There's not such thing!)
Hope you enjoyed reading about my a-bit-crazy tennis goals, and convinced yourself that no matter how difficult and impossible your goal may seem and feel, you can make it happen if you work relentlessly! If so, click on the clap button below so I know you did 🤗.
Ciaooo, I'll see you in the next blog!
Would you play tennis all day and night just to get better?
Then you're one of us! We're a community of passionate and motivated tennis players who work hard every day 💦 to reach their goals, motivate each other 🔥 to keep going when things get tough and share their own experiences 💬 so everybody can get better faster.