Living through a tennis injury - A look behind the scenes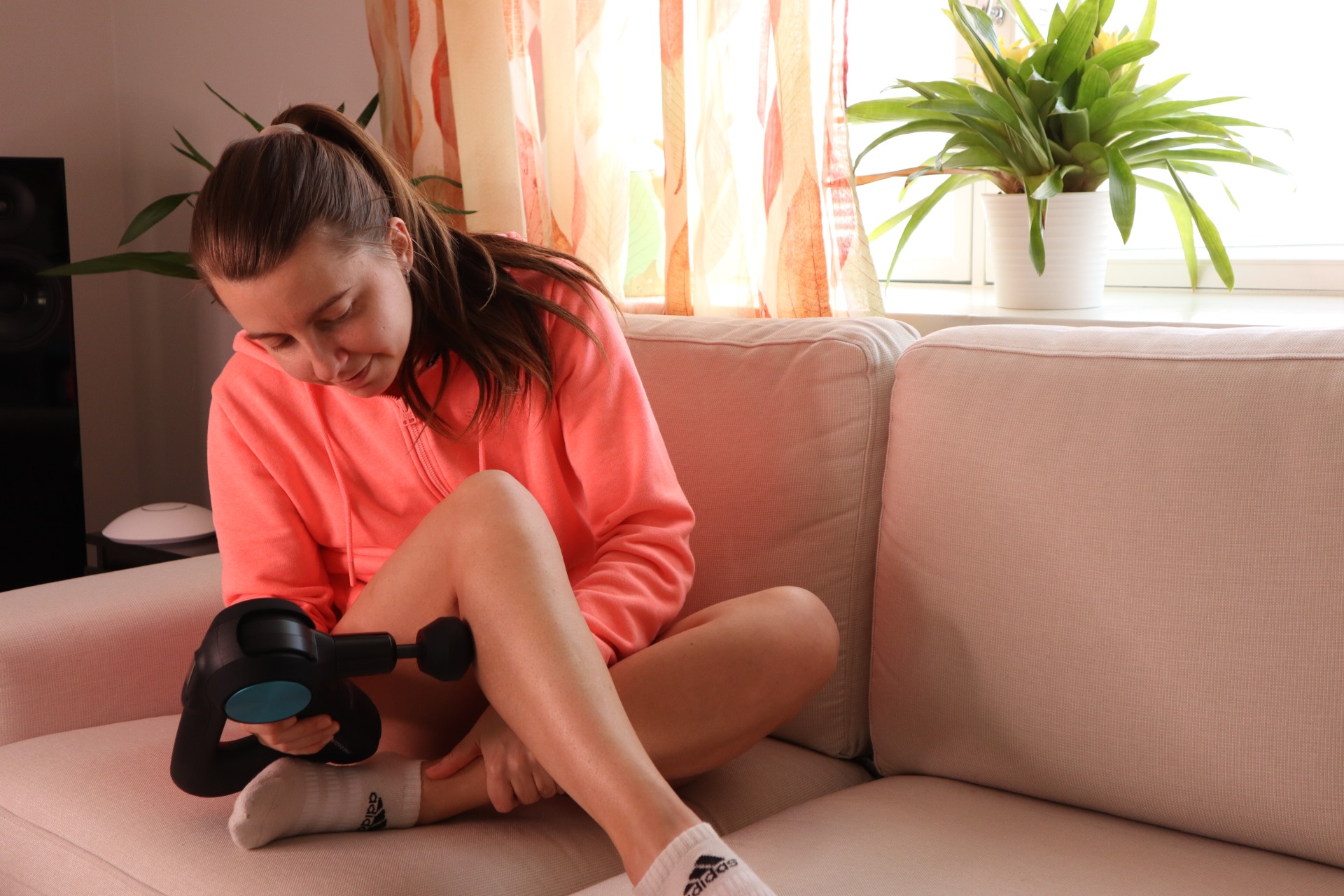 Getting injured sucks. OMG if it sucks!
You'd think it does get easier to deal with it, once you had one, two, three injuries before. But the truth is, no matter how many you had before, the newest injury is always the one that sucks the most 🥺.
Maybe it's because you already know what's ahead of you: forced rest that feels like forever, who-knows-how-many specialists' visits and lots of boring-but-necessary rehab. (Not exactly a dream holiday 🙄.)
Or maybe because it feels so unfair it's happening to you again: you did all you were supposed to do, and yet... here you are, again.
The point is: whether you've been injured before or not, it really sucks.
I'm just getting out of my I-lost-count injury, and honestly I really hope it's gonna be the last 🤞.
But I know (deep down) that it will happen again: no matter how much prevention I do, no matter how well athletically prepared I am, no matter what.
After all, injuries are part of a tennis player's life. So I better get used to it, expect the best and prepare for the worst! Don't you think?
Btw, if you've just hopped on my blog and have no clue about who I am, I'm Elena Margaria 👋🏻 and just like you, I'm on a mission to become the best tennis player I can 🥇. Even without a fancy team, or too much talent. Just with a huge desire to make it.
That's why Tennis Rematch exists: to share everything I learn along the way 🤓, so you can get better faster, and together we can prove that we can achieve anything we set our mind to 🔥.
But back to business!
As I'm just slowly getting back on court after my latest injury and everything's still very fresh in my memory, I thought I'd document it here.
I know how sad and frustrating it is being injured, so if there's a chance my story can help someone see the light at the end of the tunnel, I'm up for it!
You ready?
Here's a little heads up on what you're going to find in this blog 👇. If you like surprises though, close your eyes and skip ahead!
That day when I got injured.
It was Tuesday 📆, of course. When else would I get injured if not during my busiest day tennis-wise? (No, I don't think it was a coincidence.)
As always, I had played with Tupu and Siri for 2 hours in the morning and yep, it had been a good practice.
One thing was different though.
The new covid19 🦠 safety rules had just come into play the day before, so it was the first Tuesday in which there were no bikes in the common gym area and no one was allowed to hang around the facilities except for heading to the court and leaving.
For me, that meant no usual warmup and no usual cool down off court.
(Not saying that is what caused the injury. I don't know if it idid 🤷‍♀️, maybe not! But I do suspect it might have something to do it with it.)
Anyway... at 5pm I had my sparring hour with Anne, a 12yo girl 👧 who has big tennis dreams (and also works hard for them), and I was asked not to make her run too much as she had felt some pain in her heel the previous day.
By the end of the hour, my right heel had sent me some signals as well. It wasn't really hurting, but felt a bit uncomfortable and weak 🤔.
It wasn't until the next day though that I understood it was actually something a bit more serious than the random little pain that comes and go.
During my practice indeed, I just couldn't put the weight on my right foot 🦶, or I'd feel a quite uncomfortable pain (not super sharp, but pain nonetheless).
That's when I decided to rest and let it heal.
I thought "Ok, I must have played a bit too much. I'll rest for a few days, just the time to recover, and then I'll start from where I left!".
I wish things had gone that way 😅. Now, in hindsight, I can say I was a little too optimistic!
After one week of absolutely no tennis and too much sofa, zero progress was made. Actually, things were even worse: not only my foot was still hurting, but my calf had started too. What a lovely update!
Apparently, the nearly-inexistent walks of those days (sofa-toilet-sofa-table-sofa-bed) were enough to spread the inflammation up my right lower leg. And, believe it or not, not even the cold showers before bed could hold it off 🤯.
Something had to change. Rest alone wasn't helping.
It was time to seek for help and see a physio.
Dom, my coach, arranged the meeting.
It didn't last long: after watching me walk, Antonis said he could help me. With a sport massage of 90 minutes, he would check my imbalances and hopefully relieve most of my pain.
We had the sport massage the next day, at my place 🏡. (Yessss, it's not a mistake: at my place! Having a physio visiting you instead of you visiting the physio is honestly the best!)
I'd never had a sport massage before (have you?!) and was obviously not prepared for it, neither physically nor mentally: I ended up screaming from start to finish. Literally!
It was so incredibly painful that those 90 minutes felt like a month 🤯. And I'm not kidding. (No wonder Antonis' nickname is Mr Pain!)
But it worked.
And as soon as he took his hands off me, I was like a new person. No pain whatsoever. My foot and my calf felt fresh, like there was fresh water flowing in my veins instead of blood! What an incredible feeling!
Given the immediate progress, we immediately agreed on meeting again in one week, for another torture (ops, massage: that's what I meant!).
And so began my rehab.
For one whole month, I was advised not to do anything: no tennis, no fitness... nothing.
It was tough.
During the last couple of months before my injury, I was playing practically every day, sometimes even multiple times a day. So you can imagine how I felt going from 100 to 0.
(Yes, like 💩.)
My mood was under the ground more days than not, but... if that was the fastest way to get back on my feet, then I had to shut up 🤫 and stick to the plan!
After all, a little break from tennis never killed anybody, and my newest goals would still be there waiting for me!
I kept seeing Antonis for the massage once a week for about a month, until my pain in the foot and calf became just a far memory 💭.
At that point, under his advice, we started having fewer massages (only 1 every 2 weeks) and added 2 rehab sessions per week, to work on my imbalances both strength and mobility-wise.
(I know what you're wondering and no, his massages didn't feel any better: still a torture!)
I was also finally allowed to start taking walks and short, slow runs, which soon turned into real-effective-sweaty runs thanks to Marco, my Italian athletic trainer from the good (g)old days of high school.
And yes, I finally got the ok to step on the court again 🥁.
Awwwww, what a feeling to be back! Priceless!!
So here I am, nearing the end of my rehab process.
Or, at least, I hope!
It's been exactly 2 months since that damn day, and I honestly cannot wait to leave this whole story behind me!
Really, I miss playing soooo much I would spend all day on the court if I could!
Unfortunately, I still cannot train as much as I would like, as my body (muscles, tendons... maybe even the skin 😜?!) just rebel if I do too much and too soon.
And how can I blame it after one whole month of standby?
I'm positive though: with the right attentions (Antonis' massage and rehab sessions, Marco's physical training, my new Theragun Pro toy, my ice bucket dates 🥶, and a big dose of patience) I'm getting there.
Slowly, but I'm getting there. It's just a matter of time ⏳!
But now I want to know about you!
I hope your injury history is not as rich as mine, but tell me: what's the toughest injury you had And what was the key to your recovery?
Let me know in the comments below, I want to know your story too 😊!
Oh and don't forget to click on the clap button, so I know you've made it this far 🥰. It's always nice to know you've enjoyed my stories!
I'll see you in the next blog. Take care 🤗!
Would you play tennis all day and night just to get better?
Then you're one of us! We're a community of passionate and motivated tennis players who work hard every day 💦 to reach their goals, motivate each other 🔥 to keep going when things get tough and share their own experiences 💬 so everybody can get better faster.