I'm back! Here's what happened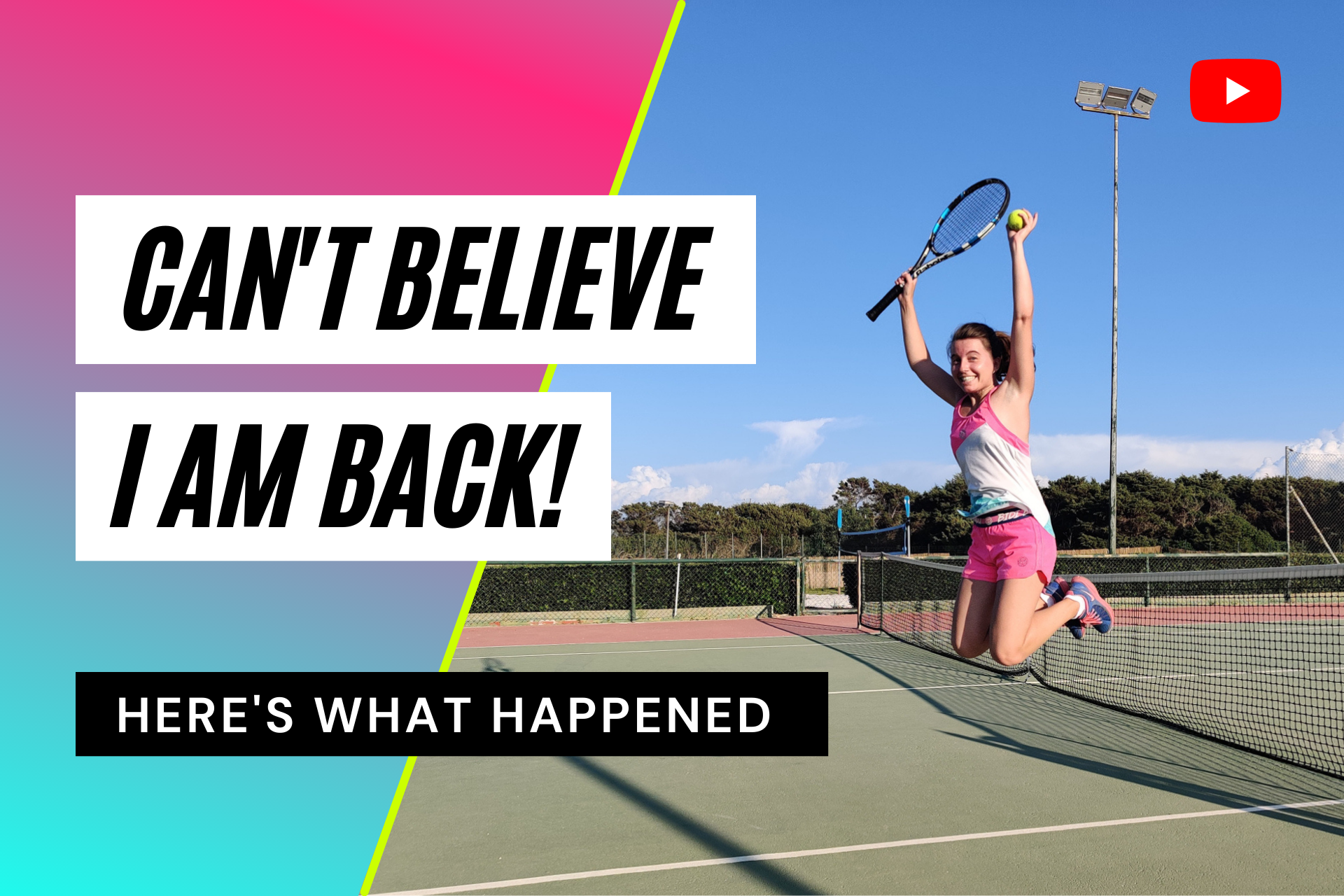 Hey, I'm back!!!! And I'm so happy you're still here!
I've missed you so so much in the past months, but... I just couldn't keep writing about tennis when the last time I was on a tennis court was who knows when 🥺.
It was sad to be constantly reminded of my beloved tennis while I had no idea when I could finally hit some balls again. So... I just disappeared 🤷‍♀️!
I had to move on and dedicate myself to something else, or I'd have gone crazy (and been even more sad than I already was). Hopefully you understand.
But hey, now I'm here and cannot wait to tell you what I've been up to lately 😎! Looots of things have happened during my absence on here and yes, now that I'm recharged I'm more pumped up than ever!
Oh btw, if you're new on this blog and have no idea what I'm talking about, no worries. You'll know everything in a sec. But for now, welcome!
My name is Elena 👋🏻 and just like you, I'm on a mission to become the best tennis player I can 🥇. Even without a fancy team, or too much talent. Just with a huge desire to make it.
That's why Tennis Rematch exists: to share everything I learn along the way 🤓, so you can get better faster, and together we can prove that we can achieve anything we set our mind to 🔥.
Back to business now!
Where do I even start?! It's been such a long time that I have no idea 😆, but well... I guess I'll improvise a bit!
So... why was I even out for so long?
Because of an injury, of course 😏! (What else could keep me away from tennis?!)
In fact, at the beginning of March (yep, MARCH!) I injured myself out of nowhere and quickly started the rehab process with a sport masseuse and personal trainer.
As you might recall from my blog Living through an injury - A look behind the scenes, 3 months later I genuinely thought the worst was over, and was full of hope and ready to get back on court. Little did I know life had different plans for me 🙄.
In fact, as soon as I started training a little bit more again (nothing special eh, just 2-3 times/week) I quickly realized my pain had gone nowhere. Instead, it was still right there where I had left him.
How was that possible?!? After all those massages, all those strength-training sessions, all that stretching... I was back to square one?!? I was. With better mobility, more strength and increased flexibility (no doubt about it), but there I was.
I let you imagine how I felt. Or no, actually I'll tell you: completely powerless 😭.
But after a few days spent in total sadness and disheartenment, I collected myself and decided I had enough: things had to change. Obviously, what I was doing wasn't working so what else could I try?
After Googling here and there, I decided to visit a sport clinic here in Helsinki and get a second opinion from an orthopedic.
And guess what? Didn't work. Things actually got worse 🤯.
After 2 months of physiotherapy, strength-and-flexibility homework and lots of euros, I couldn't walk anymore. Literally. (My mum and grandma visited me in August and I had to go around with an electric scooter while they walked, or I would limp. Unbelievable!)
So at that point, both the physio and the doctor agreed it was time (hallelujah 🎉) for an MRI, and...
Nothing, it showed absolutely nothing wrong! How ridiculous! I didn't know if I should laugh or cry!
Then the doctor said I may need a surgery (aka two holes in my legs), and I suddenly knew exactly what I had to do: escape ✈️!
And so I did. I actually escaped Finland (not only the doctor) and flew to Italy.
And that was the best thing I could have done!
3 days later my arrival home 🏡, I already had one appointment with an osteopath and one with my old-times chiropractor, who both said exactly the same thing (that is, my back was not straight and my weight not equally balanced on my legs, thus causing inflammation) and fixed me right away.
For real! They cracked me here and there, and POUF 💨! The pain was instantly gone. Can you believe it?!?!?
I certainly didn't. After such a long time (7 months!!!!) anything else I would have expected, but not to be fixed in 30 minutes 😯!
But that was back in September. Now we're in November.
Where have I been all this time? Why didn't I come back earlier?
In all honesty, because I wasn't sure this was going to be it just yet. You know, after being out for so long and attempting a comeback more than a few times, I just didn't want to crash my expectations once more 😔.
So instead of rushing back to the tennis court, my boyfriend and I took another flight and went on holiday for a couple of weeks 🏄‍♀️!
It had been 2 years since our last proper holiday to the seaside, so this was our chance to make up for it. After all, what better time than now for being away from tennis an extra 2 weeks?!
We packed our stuff 🧳, left behind all our tennis gear and went on a road trip in Sardegna (one of the two big islands of Italy). And guys, it was absolutely amazing!
I had been to Sardegna three or four times before, so I thought I knew how much beauty was waiting for us.
Well, I now can say I hadn't seen even half of the beauty it has to offer 🤩!
It has so many hidden gems 💎 you have no idea, and if you're lucky enough (like us) to get to know some locals you can even have the privilege to have them all to yourself 😍, or share them with just a handful other people. It really felt like being in a movie more than once!
So yeah, this Sardinian holiday was exactly what I needed: a big and refreshing RESET after such a tough 2021.
And the best part is, the tons of exploring and barefoot walks 👣 in these still untouched spectacular landscapes not only made me forget all the struggles I've been through lately, but also tested my leg.
And ladies and gentlemen... YESSSSS, I declare myself healed 💃!!!
Thanks for reading this blog up to the very end, I hope you liked this little life update! And thanks for letting me take my time and still being here, I really appreciate. You are the best ❤️.
Can't wait to see you in the next blog,
Elena
Would you play tennis all day and night just to get better?
Then you're one of us! We're a community of passionate and motivated tennis players who work hard every day 💦 to reach their goals, motivate each other 🔥 to keep going when things get tough and share their own experiences 💬 so everybody can get better faster.