Tennis is harder than I remembered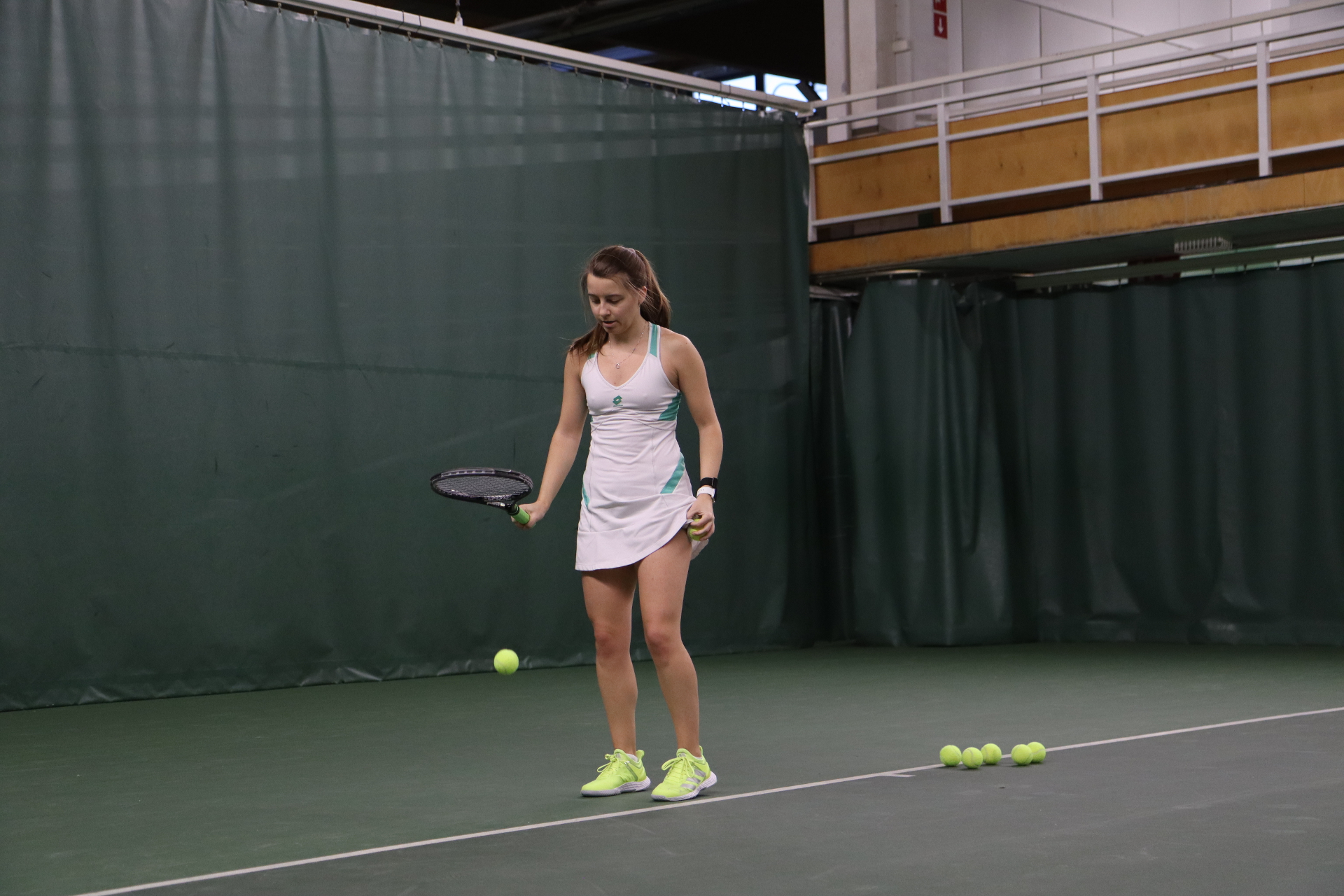 Coming from a forced break and all you want is to get back in shape ASAP? Oh I feel you, that's me too! In fact, I've just completed my first full week of training and WOW, I'm so out of shape 🙈.
There's 1M things I would like to work on and improve, but obviously the time on court is what it is and, let's be honest, it wouldn't be wise anyway!
So instead... I decided to go smart about it and focus on the 20% that will hopefully give me the 80% of the tennis I want.
Hi, my name is Elena 👋🏻 and, just like you, I'm on a mission to become the best tennis player I can 🥇. Even without a fancy team, or too much talent. Just with a huge desire to make it.
That's why Tennis Rematch exists: to share everything I learn along the way 🤓, so you can get better faster, and together we can prove that we can achieve anything we set our mind to 🔥.
But ok, back to business now!
Before we get straight to the interesting part (that is, what I'm gonna focus on in the next few weeks), let's just take a minute to talk about the shocking realizations I had during this first full week of training, shall we?!
I think we often give a bit too much for granted, so it's good to be reminded sometimes. And if there's some good to be taken from my latest endless injury, let these reminders be it!
Shock #1 - You need to be freaking fit to play tennis
Oh yes, you do! You cannot just hop on a court and think you're gonna be fine, because it's not gonna happen. Not if your main sport for the last few months has been yoga and tennis on tv, like in my case basically!
Tennis is just not one of those sports you do to get fit! First you get fit and then you play tennis! Don't you agree?!
I had my proof last week during my first official practice with Tupu, my fav tennis buddy on earth (in a tie with my boyfriend ❤️), and Dom, our coach.
F@@@! Saying I was dead is a big, fat understatement 😨.
No breath, no legs, nothing! DEAD ☠️.
Just take a look at this message from Dom, this is what he told me the next day 😂👇.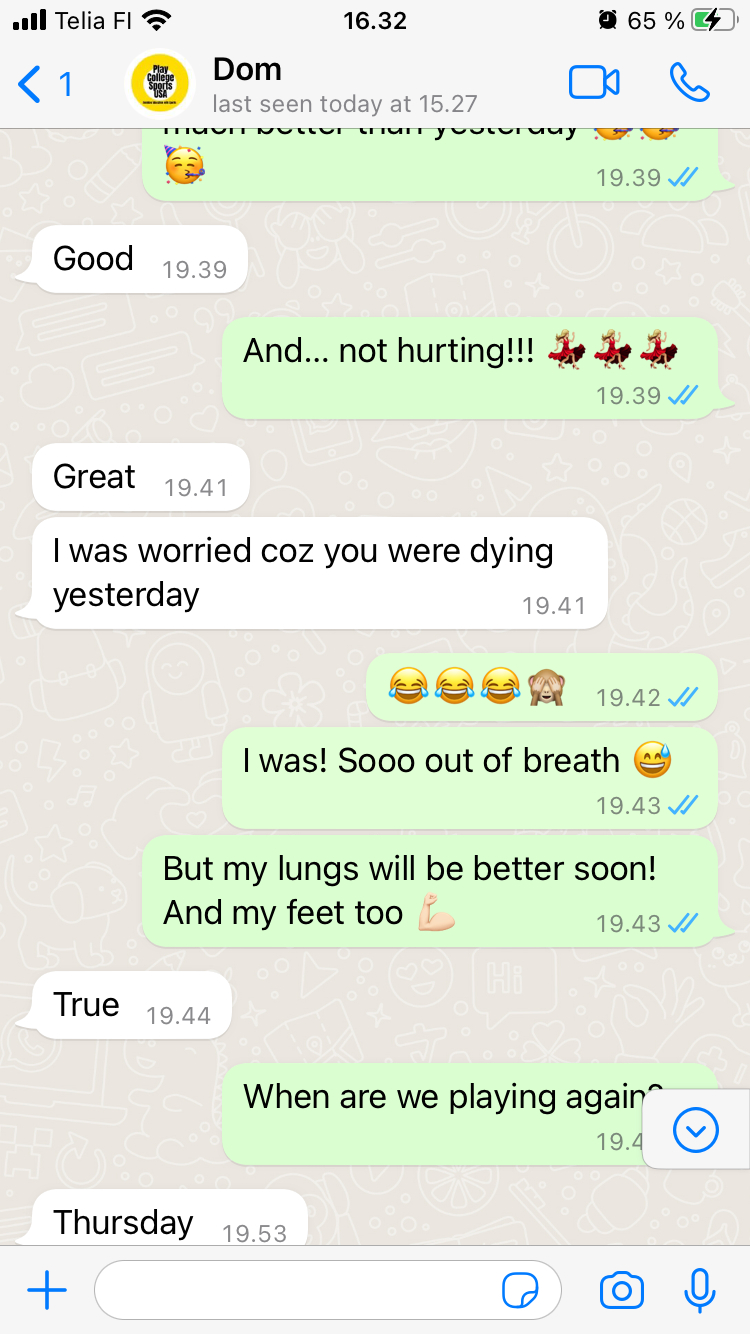 Shock #2 - You need to be freaking good to play well in the service boxes
Trust me, it's not a piece of cake! You'd think c'mon, how can you miss every other ball when you're that close to the net!
Well, just ask Tupu or Dom or my boyfriend how bad I am at it since my comeback 🙈. (Not that before I was much better, but still!)
I don't know why, but it's really a struggle for me to start the warm up there! And oh boy, the embarrassment is real 🤭.
Every single time I step on the court the story repeats: I have literally zero feeling on the ball and even though my focus is on point I just can't seem to send the ball in a decent place on the other side of the net!
You should see... it's like my body is completely disconnected and has no idea how to sync the movements! Horrible!! If only I could, I would dig a hole for myself and disappear! (Yes, just like that time I completely lost my forehand during a tournament. Remember?!)
💬 Any idea how to fix this?! Please help me, I can't go on like this!! (I'll be reading your tips in the comments 💕.)
But now, time for that 20% I was mentioning before! You ready?? Let's go!
Focus #1 - Get those legs and lungs working again
At the moment they're quite a bit rusty, that kind of rusty that doesn't even let you rally for 5 min in a row without bending your back forward as soon as the rally is over. You know when all you can think of is when's the next break 💭!? Exactly!
I'm not sure which is worse, if the legs or the lungs. It actually feels like they take turns! When my breath seems to be a bit better, then my legs are KO. And when my legs feel like they could keep pushing, then my lungs beg for mercy.
Anyway, the point is I need to level up my fitness if I want my tennis back soon (and of course I do!).
So here's the plan: for the next couple of weeks 📅, I'll try to do some aerobic stuff at least twice a week to get my heart pumping and my legs rolling again.
The workouts I'm gonna do are very straightforward (on paper, not in practice, but that's another thing 😜): 2 times 20 min with heart rate between 160 and 170 beats/min. Easy, right?!
I've done it once so far, and it was savage 💦.
Focus #2 - Get the Opelka's kick on the second serve
Ok, maybe that's a bit ambitious... but you know, shoot for the moon and you'll walk among the stars they say.
So yeah, I'm basically on a mission to serve like a boy 💪 and get all the spins right! And to make this happen, I committed to one entire hour per week of only serves and returns.
I've already been working on getting that extra kick this past week and with the right targets I think I'm starting to understand what that "snap the wrist" really means. Hallelujah 😅!
We'll see in a while where this leads to, but I'm confident my second serve will bother my opponents quite a lot very soon 😈.
💬 How about you? Are you also keeping some slots for your serves and returns?!
At the end of the day every single point starts with those two shots, so I think it does make sense to give them extra attention! I've never really done that in the past, but... hey better later than never, right 😜?
And voilà, those are going to be my main focus for the next couple of weeks. In addition to finding my flow again, of course ✌️.
Hopefully I'll be back in shape soon! Keep your fingers crossed, please 😉.
Thanks for reading this blog up to the very end ❤️. I hope you like this kind of real-tennis-life content because I personally enjoy writing it a lot, so there will be a lot more in the future! If you do, please let me know with a clap (or two)!
Talk to you very soon,
Elena
Would you play tennis all day and night just to get better?
Then you're one of us! We're a community of passionate and motivated tennis players who work hard every day 💦 to reach their goals, motivate each other 🔥 to keep going when things get tough and share their own experiences 💬 so everybody can get better faster.