Tennis shot selection strategies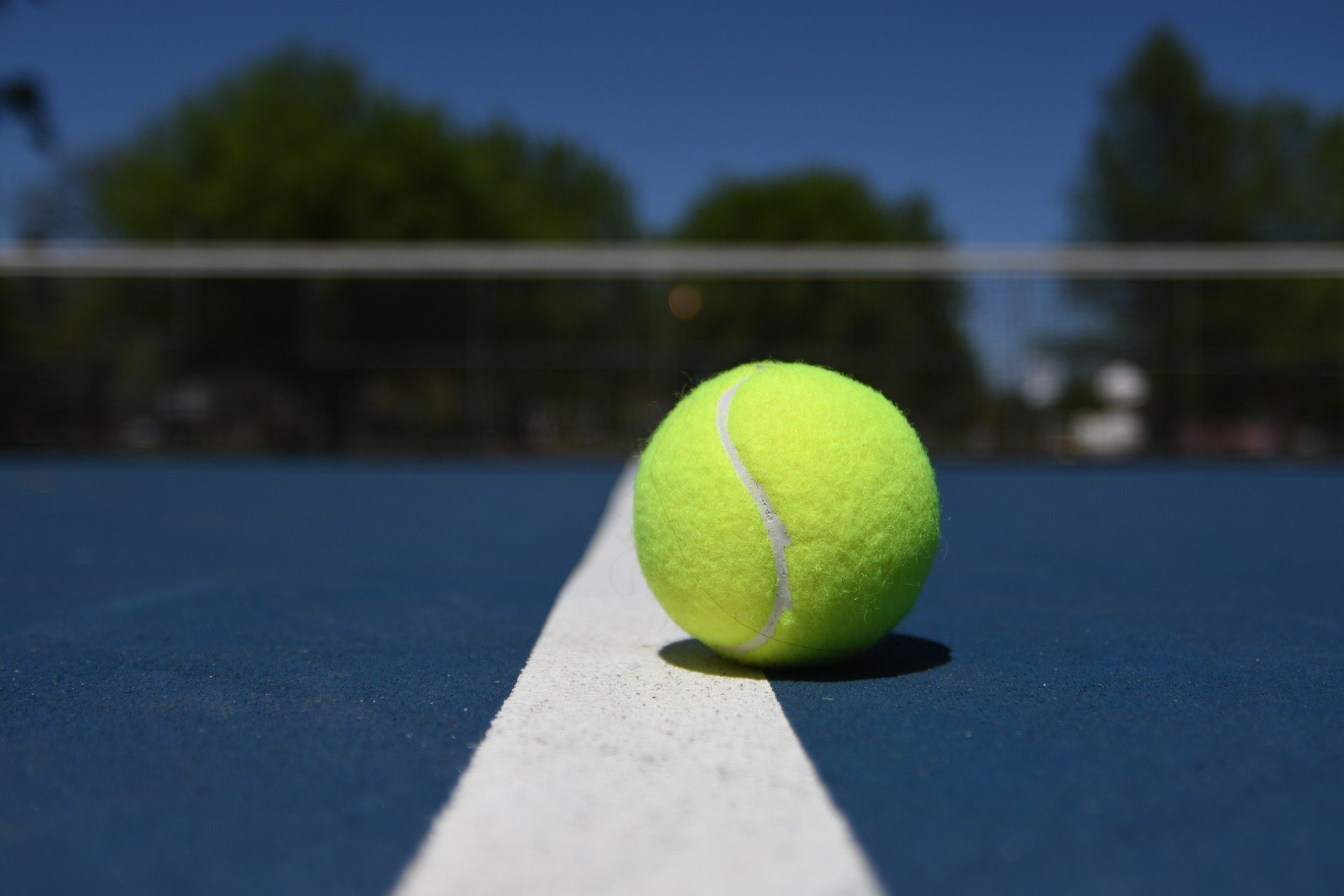 How many times have you been told to "play the right shot at the right time"? I have sooo many 🤭! And yes, it's easier said than done. But don't worry, I've got you covered!
In this post I'll tell you everything you need to know about shot selection: what it is, why you need to get good at it and how to make it automatic in no time.
I'm Elena Margaria 👋🏻 and just like you, I'm on a mission to become the best tennis player I can 🥇. Even without a fancy team, or too much talent. Just with a huge desire to make it. That's why Tennis Rematch exists: to share everything I learn along the way 🤓, so you can get better faster, and together we can prove that we can achieve anything we set our mind to 🔥.
Wanna go straight to a specific topic? I made it easy for you 😇, although I recommend you don't skip anything 👇🏻.
The benefits of proper tennis shot selection
First things first. 👉🏻 Why should you care about shot selection? Why is it THAT important 🔥?
Here are all the whys I can think of 💭 to get good at tennis shot selection:
✔️ to reduce the number of unforced errors 💥: because when you have practically no chance to make the point with the next shot, why take a risk and try anyway?
✔️ to force your opponent into errors 🔨: because winners are one way to win points, not the only way.
✔️ to win points without the need to run excessive risks 😎: because sometimes waiting for a better ball pays off more than rushing to close the point right away.
✔️ to force your opponent to take risks in order to win ⚔️: because why not make him sweat the victory, instead of handing it to him?
✔️ to shift the momentum of a point 🌪: because most of the times one shot is all you need to go from "well played 👏" to "it's not over yet 💪🏻"
✔️ to avoid messing up entire matches 🤯: because that's what happens when you feel the ball so well that you start playing like there's no need to think (wait for the story below to understand what I mean)
Enough? Or should I keep going? I think you got the point, didn't you 😉?
Anyway, if you don't wanna end up losing more matches than you should, and win some in which you're not properly the frontrunner, then you better get good at tennis shot selection 🤓!
But now it's time for the story I promised you earlier. ⚠️ SPOILER: It's a sad story 🥺, but nevertheless a real story (mine 👱🏼‍♀️) from which I learnt A TON, and so can you. You ready❓
A poor tennis shot selection story
September 2019, Tampere
I step on the court for my first official match (not ever, but post tennis comeback) and my excitement is literally through the roof 🤩. Like something else later on, but don't want to spoil everything 🤐!
It's been only 2 months since I grabbed (again) a tennis racket, but I feel pretty good 🤗: after all, I've been playing straight almost every day, so how couldn't I?!
The match starts and my confidence shows up right away 😎: I'm hitting winners right and left, and couldn't have more fun!
Not only I still remember how to count points and call balls out (which I was afraid I had forgotten!), I'm even winning pretty easily 🌈!
Ah ah. Ah.
That's right: I WAS! In the blink of an eye, the match takes a bad turn 🌪 and things completely shift. My winners turn into unforced errors 💥, my confidence into desperation 🤬.
And voilà, from leading 5-0 in the first set, I end up miserably losing the match tie-break 😔.
And here's the saddest part of this story: I didn't lose to my opponent, I lost to myself.
The proof? Take a look at these stats 👇🏻: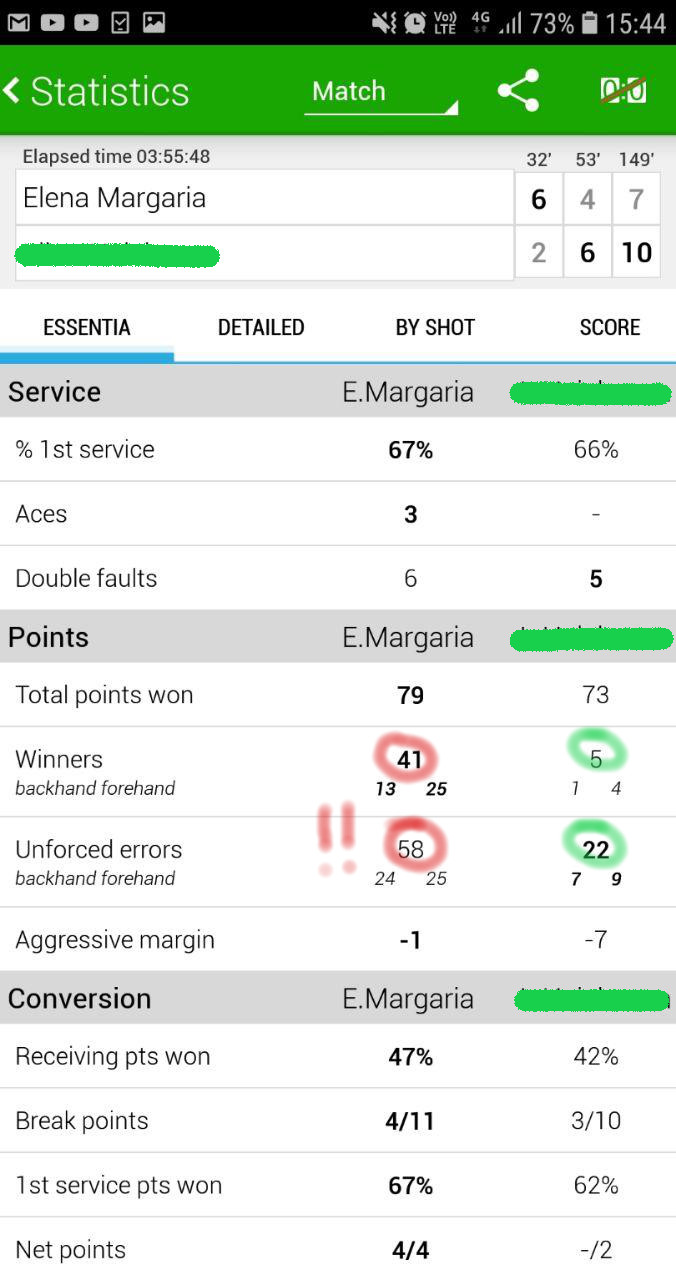 As you can see, my opponent didn't do much: in fact, she barely hit a couple of winners. On the other hand, I did too much!
Did you see what else did go through the roof? Not only my winners, but my unforced errors too 🚀.
👉🏻 These numbers are so ridiculous they now make me laugh 🙊, but I assure you they were not fun at all back then 😭.
So, what did I learn from this hilarious experience? Here's the takeaway 👇🏻:
You cannot win a match with winners, but you can lose one with unforced errors.
Which brings us back to shot selection, and the importance of hitting the right shot at the right time. Because no one can expect to hit winners all the time, not even me 😝.
And if that does happen, it's just because the planets are aligned 🪐🪐 and you happen to be in the zone at the same time.
So you better keep an eye out 🔍 for the moment in which all of that will change, because it will, oh it will! And at that point, no way you'll be able to win without wise shot selection!
☝🏻 But wait, what is it exactly this shot selection? Something you have or not have in your DNA, or something you can develop? Let's answer these Qs next!
What is tennis shot selection?
Tennis shot selection is the skill of hitting the right shot at the right time. And whether you want it or not, it's not something you're born with 👶🏼, rather something you can learn.
👉🏻 In fact, the more you practice it, the better you're gonna get at it. And the better you get at it, the less you're gonna need to think about it.
That is exactly what your ultimate goal 🎯 should be: make your tennis shot selection automatic ⚙️ and instinctive 🦁. Something that just comes naturally to you ⚡️. Something you cannot get wrong ❌.
Getting there though, it's not a piece of cake 🍰, trust me.
It requires TIME ⏳, lots of PRACTICE 🏋🏻 and a ton of TRIAL & ERROR 🧪. And some TRICKS too 🎩, just so you get it right from the start. Like those you can find below 👇🏻, that are nothing but simple strategies to make shot selection a little bit easier.
Tennis shot selection made easy
Choosing the right shot at the right time is not an easy task 🙅🏼‍♀️. But with a little bit of geometry 📐 and a couple of simple rules, it's not an impossible mission either 🚀.
Have a look for yourself 👀.
Here are 2 different approaches you can use 👇🏻. Both help you first identify the situation you are in, and then decide the most appropriate shot based on it.
#1 - The DNO Theory
The DNO Theory is an easy, yet powerful guideline based on the 3 modes you can hit any stroke in tennis (Defense, Neutral and Offense).
First, it helps you recognize the situation you are in according to the height of the ball 🎾 and the position of your feet 👣 when you make contact with the ball.
And finally, it gives you some hints on the right gear ⚙️ with which you should play the next shot, so you maximize your chances and take just the right amount of risk.
Want to know more about the DNO Theory? You're in luck 🍀: Tennis shot selection made easy - The DNO Theory is where you can find all the details about this shot selection strategy, so you can implement it right away!
#2 - Zonal Tennis
Zonal tennis is a decision-making strategy for shot selection based on the position of the ball 🎾, both on the court AND over the net.
Simply put, this is what it's all about 👉🏻 The zone where the ball lands defines the next shot and, as a consequence, the height it should travel over the net.
In other words, zonal tennis makes it easy for you to identify the situation you are in thanks to tennis court zones 💢.
And then, it tells you specifically what you should aim at in which situation, with the help of tennis air zones 🎈.
Curious to know exactly how this shot selection strategy works? Have a read at this other blog: Tennis shot selection made easy - zonal tennis. It'll change the way you look at and hit balls, 💯 guaranteed!
Want my humble piece of advice ☺️? Try both of these strategies and see which way of thinking suits you better 👌🏻! It may be one or the other, or why not, maybe a mix of the two!
But remember: no matter which shot selection strategy you choose to start with, what's important is that you keep practicing it until it becomes automatic! That's the only real secret 🤫.
Tennis shot selection recap
Tennis shot selection is no joke 🤡. But if you're serious about tennis and want to have stellar results ✨, you can't pretend it doesn't exist or think that you can do without. Because then your results will be mediocre, not stellar!
So instead, make sure you truly understand all the things present in this blog and then start incorporating it in your practice. You'll see the difference, I promise 🙏🏻.
Here's what we've covered in this blog 👇🏻:
🎾 the benefits of proper shot selection (👉🏻 too many to be listed here), so you understand how important it is in order to keep improving and climb the ranking
🎾 my experience with bad shot selection (👉🏻 not a nice one), so you know what can happen when you rely solely on your winners and forget you have a brain
🎾 what is tennis shot selection (👉🏻 the skill of playing the right shot at the right time) and what you need to get good at it (👉🏻 time, practice, trial & error and tricks), so you know from the start what's needed in order to master it
🎾 2 strategies that make shot selection easy (👉🏻 the DNO Theory and Zonal tennis), so you have some frameworks to help you get started with it
That was a lot of info, wasn't it❓ Make it yours and you'll win a lot more!
If you liked this post, please leave me a clap (or two). It's a small act for you, but it would mean a lot for me 💕.
Would you play tennis all day and night just to get better?
Then you're one of us! We're a community of passionate and motivated tennis players who work hard every day 💦 to reach their goals, motivate each other 🔥 to keep going when things get tough and share their own experiences 💬 so everybody can get better faster.