How to make the most of your tennis quarantine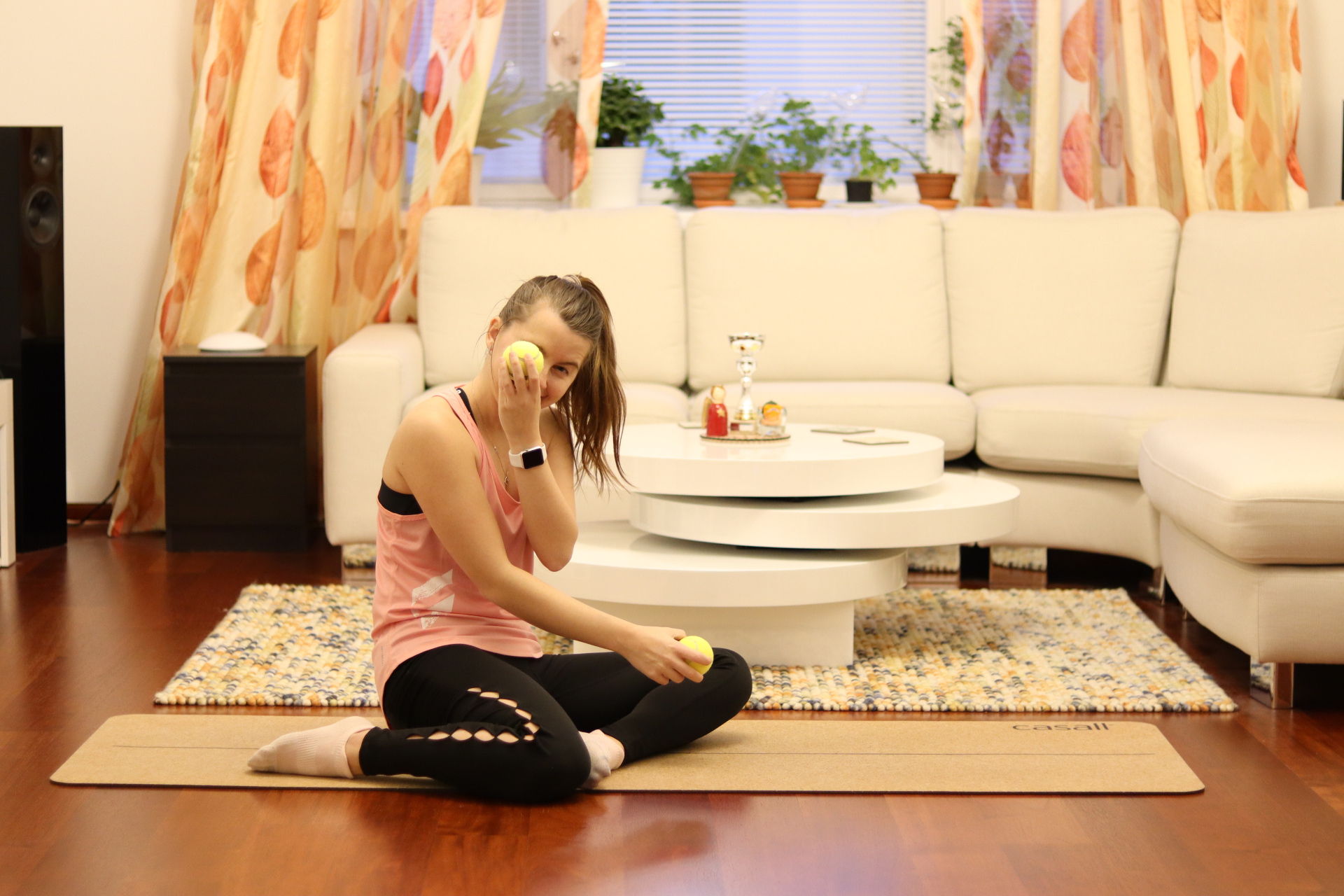 As we're pretty much all stuck at home due to the spread of Coronavirus COVID-19 👑🦠, why not make the most of our quarantine and make sure we'll be in the best possible shape (physically and mentally) once it's GO-time again?
I know, it's ok to rest 🛀🏻. And I'm in no way saying you shouldn't! But at the same time, I think we should use this extra time we have as an opportunity and not just waste it 🗑. Because once this will be over, blaming Coronavirus or the lockdown won't change absolutely anything, if not make things worse!
But I know you're not like that 💕. After all, if you're reading this blog, tennis is not just another hobby for you. And by "just another hobby" I mean one of those that you can pause ⏸ for a while with no problem and just resume later. Instead you're probably like me and have no intention 🙅🏼‍♀️ to let the lockdown stop you from making progress and becoming who you want to become 🙌🏻! Am I right?
If so, then this blog is for you! During the last 3 weeks of lockdown 🔒 I really tried my best to stay active, acquire new useful skills and keep my motivation high. And here I'm sharing all I've been doing with you, so you can hopefully get inspired with new ideas and keep going for your dreams from your home 🏡.
I'm Elena Margaria 👋🏻 and just like you, I'm on a mission to become the best tennis player I can 🥇. Even without a fancy team, or too much talent. Just with a huge desire to make it. That's why Tennis Rematch exists: to share everything I learn along the way 🤓, so you can get better faster, and together we can prove that we can achieve anything we set our mind to 🔥.
You know, I once quit tennis due to lack of competitions and it took me 4 years to decide to make a comeback. I don't want you to do the same mistake, time is precious ✨. So... even though there's nothing like hitting yellow balls 🎾, let's focus on what we can do rather than what we cannot.
Total Tennis Home Workout 🏋🏼‍♀️
First things first: fitness, of course! If there's one thing we can all keep doing as often as before (if not more!) is working out, thank god 🙏🏻. I don't know about you, but the way I look at this temporary period is as the pros' pre-season, and you know what? It helps a lot, as it makes me feel like I'm (already) a pro myself 😉.
Anyway... obviously, as we don't have access to a gym nor a tennis court, we cannot expect our workouts to be the same as always, it's clear 💯. But limited space and equipment don't necessarily mean your workouts will be less effective, especially not if you follow a fitness program specifically designed with these limitations in mind.
For example, recently (before the world was shaken up) I told you my experience with the High Performance Tennis Fitness Program I had just finished and how crazy results I've got from it. Btw, how perfect timing I had to be at my peak just before all the tournaments were canceled?! 👌🏻
Well, despite the fact that I should anyway take a rest from it and just do some maintaining work, that program is not usable right now as it requires gym equipment and a tennis court (or a lot of space). So I decided not to throw in the trash all my progress so far (aha, it was a no-brainer decision, I know 😅) and switch to another Tennis Fitness Program, the Total Tennis Home Workout, thought for serious tennis players who have access to their couch and living room 🛋, but not much more than that!
I've being doing it for 1 week only (while it's a 4 week-program), but I can already say I couldn't be happier about it. Nathan and Giselle (the trainers) are really a guarantee when it comes to fitness workout plans for tennis! But of course, how could it be otherwise with a resumé like theirs? They ONLY trained 5 world number one players 🥇, after all!
But apart from jokes and the sure fact they know what they're doing, here are the main reasons why I like this program.
🌏 It's complete. Just like the High Performance Tennis Fitness Program, this home workout program really focuses on every aspect: strength, power, agility, mobility, flexibility, core, speed and aerobic conditioning (in case you either have a yard or a cardio machine at home) are all trained, which is why the schedule includes 7 workouts / week.
⚡️ It's brief, but intense. Unlike the High Performance Program, this includes much shorter workouts, ranging between 20 and 40 minutes. But trust me, that doesn't make them less hard or sweaty 💦, quite the opposite!
🎨 It's versatile. This is actually my favorite thing about it. Even though it includes "only" 7 workouts, it comes with 5 different plans or schedules: 🌈 the general tennis workout plan, 💪🏻 the strength tennis workout plan, 👣 the movement workout plan, ❤️ the endurance workout plan and 🏆 the tournament workout plan. In practice, you get 5 different plans in one. That's brilliant ✨.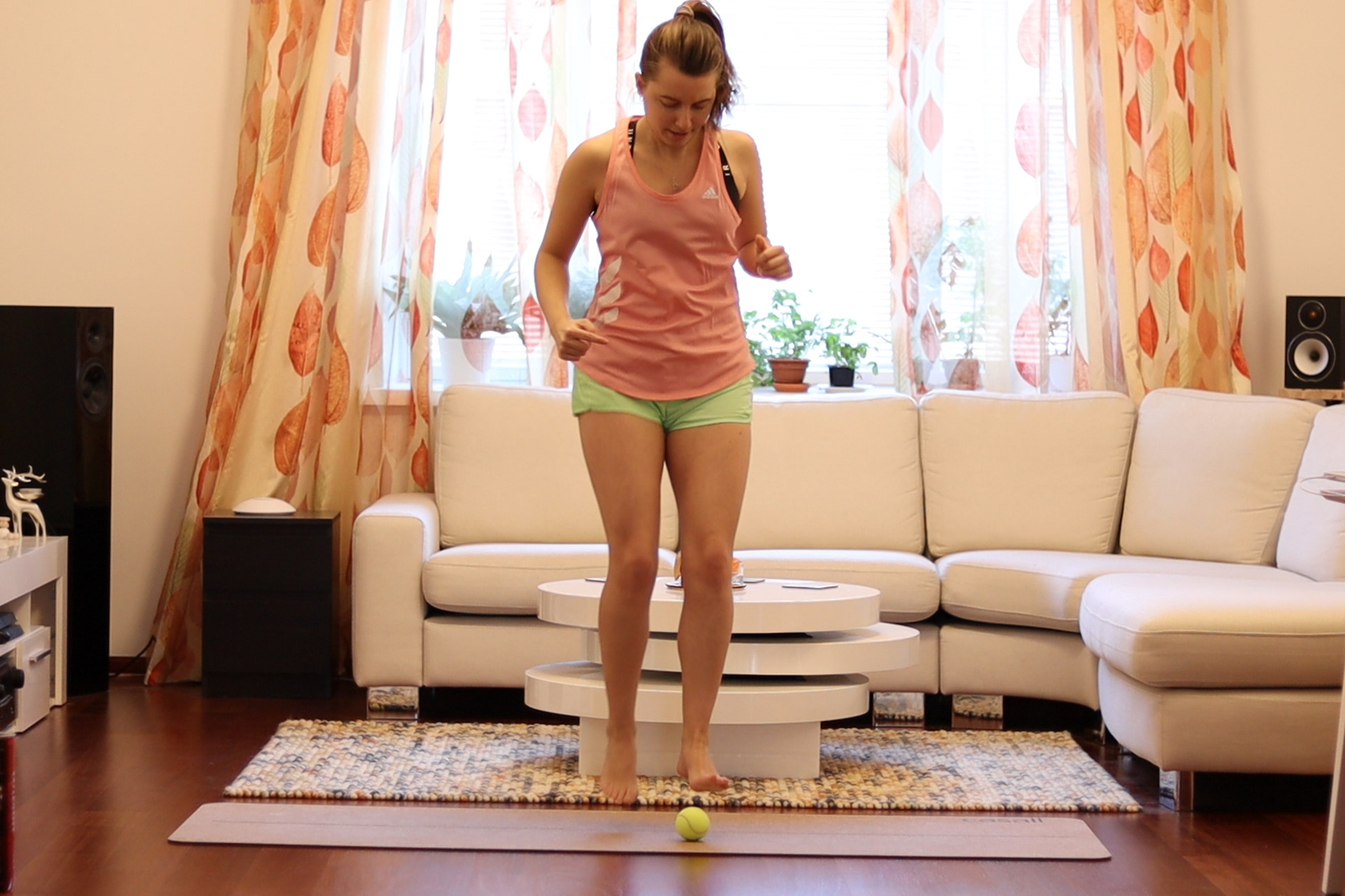 So if you're wondering, YES, I'll be in great shape by the end of this quarantine. And honestly, if I keep following the program as it is, I wouldn't be surprised if I'd get to a shape better than when the quarantine started. I know, mind-blowing 🤩! Who would have said you could reach your physical peak without a gym and a tennis court⁉️
My advice? 👉🏻 Don't just do random stuff: follow a serious fitness program and you'll find yourself in the best shape ever when it's time to go back to the tennis court!
Shadow swings 👻
One other thing we can still do, even during this lockdown time, is shadow swings. And you know what? When you don't have the chance to be on the court for days, grabbing your racket for simulating your strokes gets all another taste 🤤. Isn't it true?
You don't only focus twice as much 🔭, you also do it for much much longer than you would normally do. In other words, you deep practice without even realizing it, which means it's like you're doing hours of practice in just a few minutes, without even hitting the ball. You kill two birds with one stone!
So if you're one of those who think you cannot make progress without hitting a tennis ball, think again! It's not like that 🙅🏼‍♀️. Improving your skills and growing talent is a matter of deep practice and strengthening the right circuits in your brain 🧠.
My advice? 👉🏻 Shadow swing with the right intention, trying to feel like you were hitting a ball, and you'll see progress. It's science 🧪.
Yoga 🧘🏼‍♀️
Flexibility, mobility and balance are all crucial components for a tennis player. Just look at Djokovic 🃏! But even though we all know this, for some reason we tend to neglect it and don't spend even nearly enough time working on them 😫.
But now that we have some extra time ⏳, why not use part of it trying to improve in that direction? I can just speak for myself, but I'd love to be a complete athlete and not have physical gaps. And if in normal times I have to choose what to prioritize because there's not enough time for everything ⚖️, now it's all another story!
That's why in addition to the fitness program, I'm also incorporating yoga in my daily routine these days. And what I'm realizing is, you don't really need to spend hours on the mat to see your body change. All you need is a little bit of consistency 🐢 and 30 - 40 min per day!
My advice? 👉🏻Spend some time on your mat too... as tennis players we tend to be quite stiff, so take this time to improve your flexibility and mobility, and I promise you, you'll be surprised of what your body is capable of in so little time!
Juggling 🤡
Eye-hand coordination is another skill we can keep working on while stuck at home. And the good news is, we can improve it while having a lot of fun 😊! Think of juggling for example: isn't it super fun and challenging at the same time? It is!! And what's really cool about it is that no matter your level, you can always find ways to challenge yourself!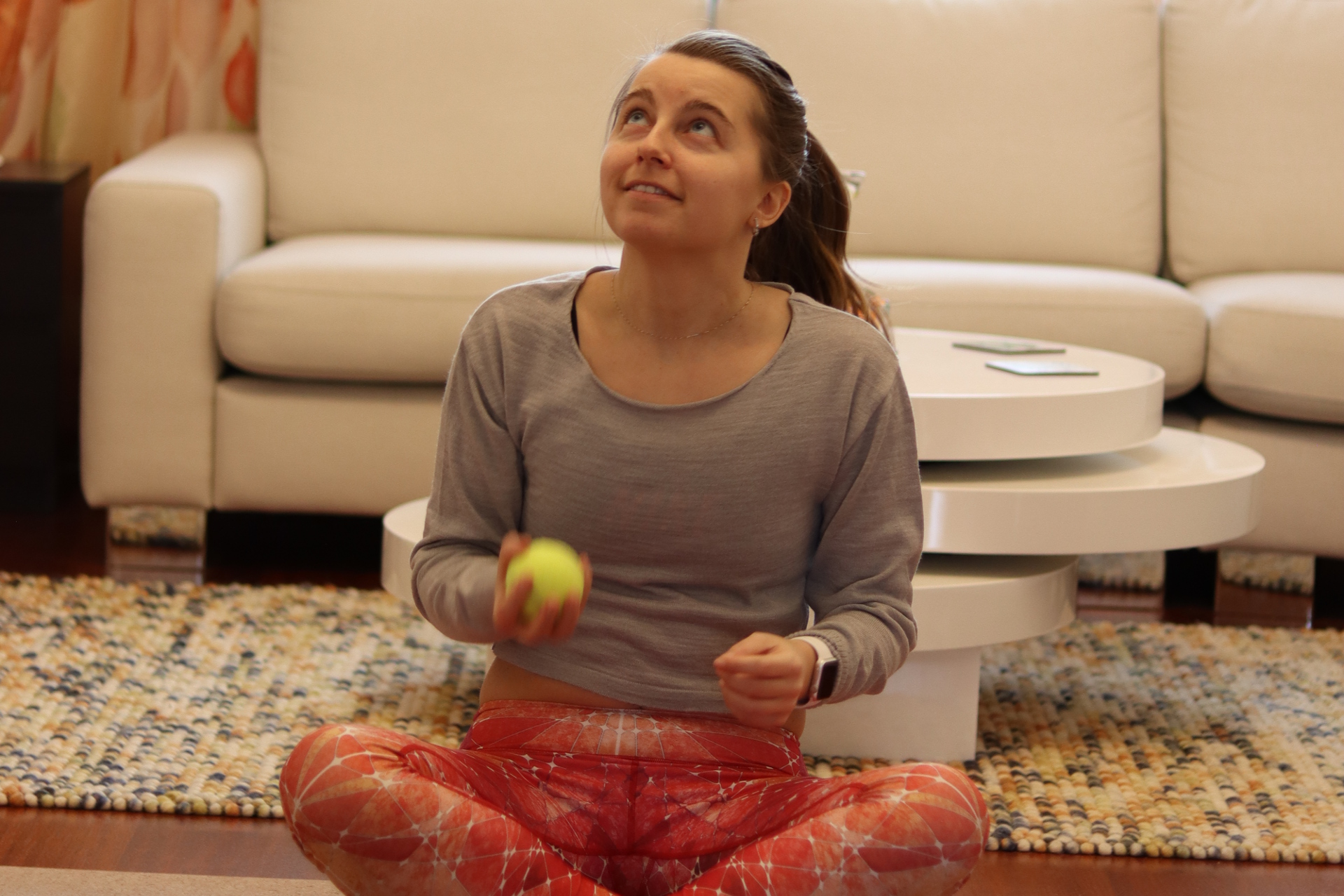 For example, if you see that juggling with one hand and two balls is too easy for you, you can either add restrictions (sit down instead of standing up) or add complexity (do the ladder in the meanwhile). The only limit here is your imagination!
My advice? 👉🏻 Just get creative 🎨 and don't be afraid to push yourself to do things you believe are nearly impossible! With just a few minutes of practice (and fun) every day, you'll get there! And in the meanwhile, you'll have eye-hand coordination skills like never before!
Tennis books 📚
Last but not least, there's never been a better time to read and learn about tennis 🤓. And why should we try to reinvent the wheel ⭕️ when there are lots of people who are a few of steps ahead of us on different fronts, from which we can learn from?
Yet, we always seem to have better things to do or are simply too cocky 😎 to see that the real shortcut is not figuring things out by ourselves but learning from other people's experiences!
Either way, now there's no excuses: for once, we're not lacking time! So why not give it a try? Trust me, you just need to find the right books and then it'll be a pain to put them down!
If you're a fan of autobiographies, I cannot recommend you more 🔸 Unstoppable: My Life So Far by Maria Sharapova 👸🏼 and 🔸 Open by Andre Agassi 🔝. You'll eat them up in no time!
If instead you prefer more informational books, then go for this one: 🔸 The talent code by Daniel Coyle. It's all about talent and how to grow it, and it's a masterpiece! I think every single tennis player should read it!
In the meanwhile, here's what I'll be reading next: Tennis Anatomy by Paul Roetert and Mark Kovacs. Cannot wait to devour it and tell you if it's worth it as well!
My advice? 👉🏻 Block some time every day to read and learn about tennis, and before you know it, it'll be one of your favorite appointments of the day! And if you're struggling to start, think about this: you have the chance to learn things that would otherwise take you months, if not years, of trial and error!
That's all I got for now! How about you? Any other idea? Please share!
Let me know in the comments if you're doing something else during this quarantine! You should know by now, I love trying new things and am always eager to experiment! So please, don't be shy and let me know!
I hope you and your family are all good 🙏🏻! Stay safe. We're in this together 🙌🏻!
If you liked this post, don't forget to leave me a clap (or two). It doesn't cost you anything, but it would make my day 💕.
Would you play tennis all day and night just to get better?
Then you're one of us! We're a community of passionate and motivated tennis players who work hard every day 💦 to reach their goals, motivate each other 🔥 to keep going when things get tough and share their own experiences 💬 so everybody can get better faster.