Tennis nerves and fear - How I got over them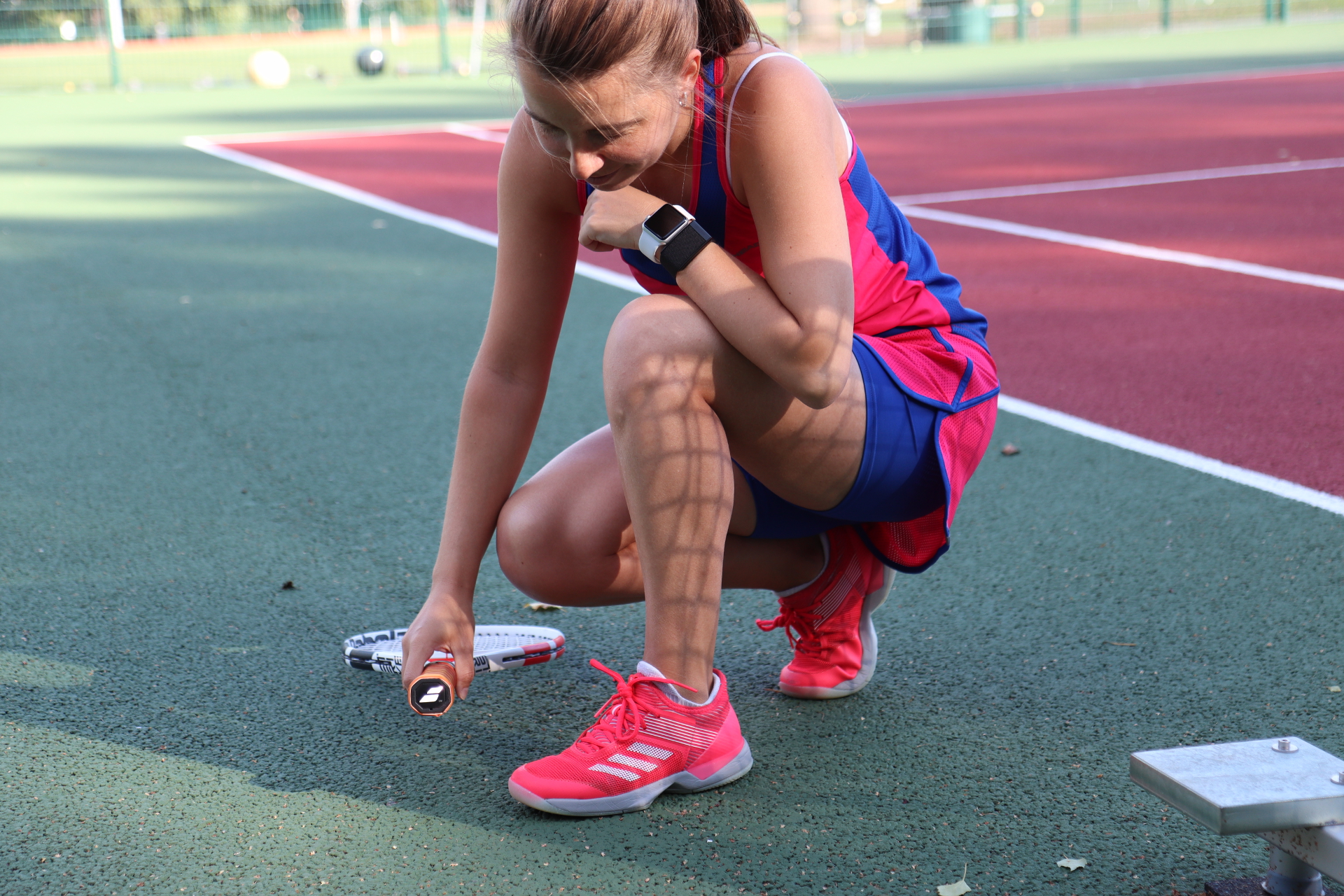 Ever played a much better player and totally messed up your own game just because of fear and nerves?
I did 😫: and not only once, countless times! But not anymore.
And while the first time my tennis nerves didn't get in the way was just by chance 🤔, now I know why they didn't. And I'm gonna tell you in a sec 💁‍♀️!
Btw, if you've just hopped on my blog and have no clue about who I am, I'm Elena Margaria 👋🏻 and just like you, I'm on a mission to become the best tennis player I can 🥇. Even without a fancy team, or too much talent. Just with a huge desire to make it.
That's why Tennis Rematch exists: to share everything I learn along the way 🤓, so you can get better faster, and together we can prove that we can achieve anything we set our mind to 🔥.
But back to business!
Just so you know what to expect from this blog, here's a little heads up.
🔹 First I'll tell you about the last time I faced a better player and let my tennis nerves took over me (it was a complete disaster!).
🔹 Then about that first time in which I loosened up completely and enjoyed every single second of my match.
🔹 And finally how I understood what kept the fear away (books are everything!) and how I now think of my matches and competition in general.
Enjoy your read, and don't forget to click on the clap button below so I know you did 💕. I'd love to know that it was helpful!
The last time I let my tennis nerves take over me was a year ago.
I had won my first round, and had to face the #1 seed next.
My confidence was there 😎, as I had just won a match playing really good tennis. And my excitement too 💃🏼, since I'd finally get to face a muuuch higher-ranked player than me!
On the other hand though, I had literally no idea what to expect from my opponent 🤔: not only didn't I know her at the time, I also had never even seen a player of her level.
The only thing I knew was that she was top 55 in Finland, while I was 300 and something.
That was scary 🤯!
So much that the day of the match that one thing turned out to be more than enough to completely break my tennis 😫.
From the moment I stepped on the court, I knew something was off. All I could think was "OMG, will I be good enough or will it be a total destruction?".
Self-doubt kicked in and guess what: I couldn't hit a single forehand in the court 👀. Not one! All I wanted was to dig a hole and disappear.
Needless to say, I lost.
💬 Has this ever happened to you❓ How awful is it❓
Fast-forward 6 months and I had the complete opposite experience: tennis nerves nowhere to be found!
After winning the first round in a big national tournament 🇫🇮, I had to face #7 in Finland while I was 140 and something.
"That's even scarier!" you may think.
But no, not really. It was actually liberating!
Knowing I had absolutely nothing to lose, this time I stepped on the court with one only goal 🎯 in mind: to make her work hard for every single point no matter the score, and win one game.
And you know what? That one goal made miracles ✨!
Not only did I make 4 games (yes, four!!) instead of 1, but I played sooooo loose and free from any kind of worries that I actually felt like I was on another planet 🌎. A planet where the time would go much slower, and I could observe what was going on on the court as a spectator!
It was so weird, but sooo nice at the same time!!
I even remember wishing the match would never finish. I was literally having the time of my life and could have honestly gone on for forever!
👉 And yes, I lost.
But that didn't matter at all 🙅‍♀️. And the feeling I had while shaking hands at the end is proof: I felt just like if I had won!
💬 Have you ever felt like this, like you won even if you lost❓ It's a bit weird, isn't it❓
What is it exactly that calmed my nerves down and let me play free from fear?
I never really understood what happened in that match that made me play and feel that way. Until... the other day, when I got to the end of The Inner Game of Tennis by W. Timothy Gallway and everything just made sense 🤩.
(Btw, if you haven't read it yet, what are you waiting for?! It's a must for us tennis players!)
According to Gallway, every single tennis player, no matter the level, plays tennis for one (or a combination) of the following reasons:
⛳ to achieve excellence and prove themselves good - either to reach the highest possible standard, or to win and be the best, or yet to look good;
⛳ to make or keep friends - either to maintain or improve social status, or to make or keep friends, or yet to see your spouse;
⛳ to stay healthy and/or have fun - either to exercise and relax the mind, or to have as much fun as possible, or yet to learn and evolve
But only a few of these reasons unlock your full potential and let you play at your best.
Can you guess which ones❓
Those belonging to the third group: to stay healthy and/or have fun.
And the reason is simple. Because when you play tennis to exercise and relax your mind, to have fun or to evolve, you don't try too hard and end up interfering with your body, but you let it do its thing and just enjoy the pleasure that comes from it.
And that is the key 🗝️ to play at your best: to let your body do its thing!
Which is exactly what I didn't do in the match in which I messed up 👎, and what I did do in the match in which I felt "in the zone" 👍.
And if you think about it, what made all the difference was in fact my mindset and the meaning I gave to competition.
When I played the match in which I messed up, I was convinced that only by winning I would prove myself and feel good enough (👉 in Gallway's words, I was playing to achieve excellence and prove myself good).
In practice, I was attaching my value to the result of the match, which yes was up to me but not completely, and by doing so I was putting WAYYYY too much pressure on me.
When I played the other match instead, the one where I loosened up like never before, my only aim was to challenge my opponent as much as I could and learn, gain experience (👉 in Gallway's words, I was playing to have fun and evolve).
As a result, not only I no longer saw my opponent as an "enemy", but as a "friend" who tried her best to bring out my best, just like I did. But I also kept fear and anxiety away, as this time "winning" was just up to me since I had full control on my effort.
🌱 Moral of the story: isn't it super fascinating we can actually affect so much the experience AND, as a consequence, the performance we'll have on the court just by shifting the mindset about competition?! I think it's insane!
I'm so happy I stumbled upon The Inner Game of Tennis, it honestly opened me a world!
And I still can't believe I played soooo many matches in my life, and yet I was completely missing the point of competition and winning 🙈.
Why no one told me before?!
At least, now WE both know! Better later than never, right?
Hope you liked this blog and got some new ideas on how to bring out your very best during your next matches! If so, don't forget to click on the clap button below so I know you did 💕 and also drop me a comment with WHY you compete. I'll see you in the comments 👇!
Until next time, ciao!! 🤗
Would you play tennis all day and night just to get better?
Then you're one of us! We're a community of passionate and motivated tennis players who work hard every day 💦 to reach their goals, motivate each other 🔥 to keep going when things get tough and share their own experiences 💬 so everybody can get better faster.